The new Air Jordan Delta 'Vachetta Tan' will arrive on May 9, 2020! At 09:00 am you will get the new lifestyle shoe for €130! The shoe will be released in 'full family sizes'! So make sure to cop the new Air Jordan for your kids or partner, because this Jordan Delta SP is hot! Just click on the button below and you will soon be able to own this shoe. If you want to learn more about the shoe, stay here and read on!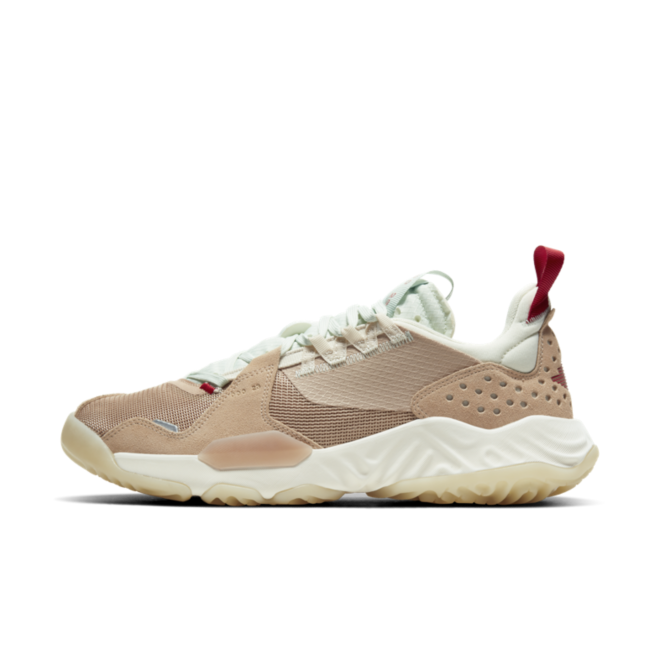 Delta SP silhouette? From where?
The Jordan Delta SP, a completely new lifestyle silhouette from the Jordan brand, which was officially launched earlier this month. The model has already received high praise for its extraordinary construction and the choice of colors.
The Delta SP continues the 23ENGINEERED collection of the new Air Jordan series, which was launched in autumn 2018. The silhouettes, like those of the Proto React and the Aerospace 720, which were released earlier, were inspired by the Air Jordan 33 and have been designed with this in mind. This created a link with the older Jordan models that has since been accepted by the Jordan community. Also the Jordan brand is doing an extremely good job of combining the Air Jordan silhouette with 'high tech' elements. But the SP Vachetta Tan pursues this goal well. Enough of my talk and here is something for the eye!
By the way: Do you want to know which Air Jordan models are available? We have compiled a timeline of the most popular Jordan models for you! Click here on 'Air Jordan Models - Part 1'! If you're interested in an Air Jordan model, please browse through our Jordan Sneaker Collection. Click here on 'Jordan Sneaker Collection'!
Colorway similarity
Also from the midsole to the dimensional arrangement of the upper, the Delta SP and Mars Yard have some clear similarities. The mix with the texture in the sole, as well as the React sole, the layered construction and the futuristic branding, which is more oriented towards high-tech aesthetics. The 'Jade colorway' on the tongue and laces gives the shoe the final touch of coolness! Also for comparison we have some pics for you below!
Also this ends the article about the Air Jordan Delta 'Vachetta Tan' and I hope you enjoyed it! If your thirst for knowledge is still not satisfied, then take a look at our Newsblog! Also with a click on the word you will get to the articles! Continue to browse and stay tuned guys!