[Update 24. February 2021] What's up friends? Another sneaker update is waiting for you. This time it's about the Nike WMNS Dunk Low 'Light Soft Pink', which comes in chic pastel colours. Nike currently has the community in its grip with their Air Jordan and Nike Dunk or SB Dunk releases and we could imagine worse with all the good styles.
We discuss what we can expect from the 'Dunk Soft Pink' release and all the info about the shoe so far here. Have fun!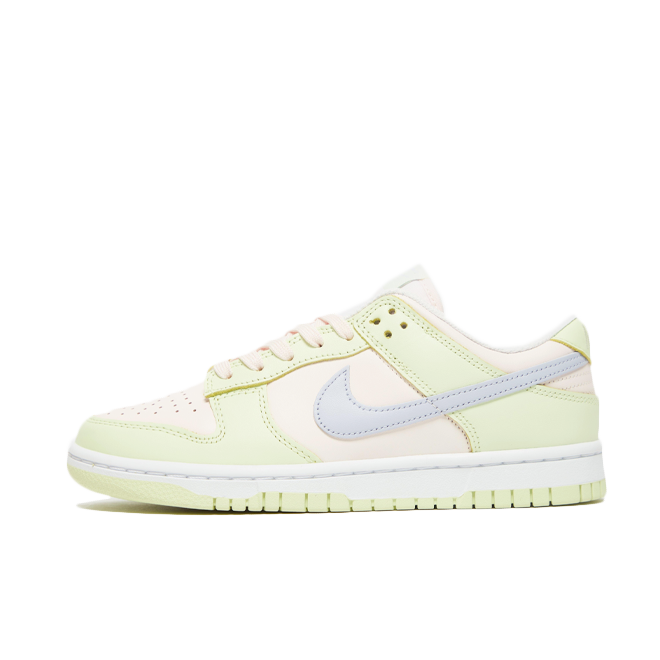 Dunk Low in 2021
This year, many Dunk Low and High models have already been released. Nike pushes many different variants of the Dunk and really floods the market. It's all the more exciting when special models like the Nike WMNS Dunk Low 'Light Soft Pink' come onto the market.
The shoe is directly reminiscent of the Dunk Low 'Free 99', in which similar colours were used. Perhaps there is a growing trend here with pastel colours, which of course go down particularly well in the summer months.
The details of the 'Soft Pink'
As you can see, the shoe comes in a mix of spring colours: pink, green, purple, blue and yellow. The base colour is white, just like the midsole. The upper is made of leather and the different colours are perfect for warm summer days. The sole is yellow and makes the shoe look even more colourful and cheerful.
The Nike logo on the tongue is in black on the Kicks, but the background colour on which the logo can be seen differs on both sneakers of a pair - just like the other colours!
You're probably wondering when you'll be able to buy the shoes. Unfortunately, there is no official release date for the shoe yet, but you can expect the Dunk Low 'Light Soft Pink' in spring 2021. You should especially look out for the time around Easter, as the shoe will probably be released around that time.
The cost will be €100 as usual and the sneaker will be available at Nike and some other retailers. We expect the shoe to be released via Raffle at most stores.
As soon as we have more information about an exact release date, we will keep you up to date in our Sneaker News. Maybe you'll be lucky enough to get your hands on the Nike WMNS Dunk Low 'Light Soft Pink' while searching for some colourful Easter eggs.
Follow us on Instagram to make sure you don't miss any more restocks, offers or releases.