Gucci might not be the brand you would think of when you think of sneakers. Or, for most of us, not a brand you think of most of the time at all, when thinking about purchasing apparel or footwear. Yet, sometimes we just want to look at the beauty these Gucci shoes have to offer, or maybe even put them on our Wishlist just in case a friend or family member might win the lottery and will be looking for a birthday purchase.
Or maybe you just got a new job, and you want to pamper yourself with something that is both stylish as well as useful, because I mean, we all need shoes right? Especially good ones when starting a new job. Well, that's why I had a look at Gucci's best-selling sneakers for you all (and maybe a bit for myself too).
The Gucci Brand
What exactly does the Gucci logo mean? Since the founding of Gucci in 1921, the brand logo could perhaps be called the most recognizable logo in terms of luxury branding. In 1993 Aldo Gucci, the son of the founder Guccion, joined the brand and designed the logo for his father. Thus, the two G's in the logo reference directly to the initials of Guccio Gucci himself.
Good to know: All Gucci sneakers are made in Italy, where sustainability is one of their top priorities. Shopping and making the clothing market a better space all in one? Sign me up.
Celebrity Sightings
Not unexpectedly, many celebrities can be spotted wearing and showing off this luxury (footwear) brand. However, not only does Gucci appear on the red carpet. Many celebrities also use them for their daily commute, because comfort doesn't alway have to make way for luxury.
First up, we have Cardi B rocking an amazing high platform pair of Ace sneakers, taking a new spin on the classic model which we will see more of below. Moreover, she opted for a black upper, instead of the white and off-white uppers most Gucci sneakers have.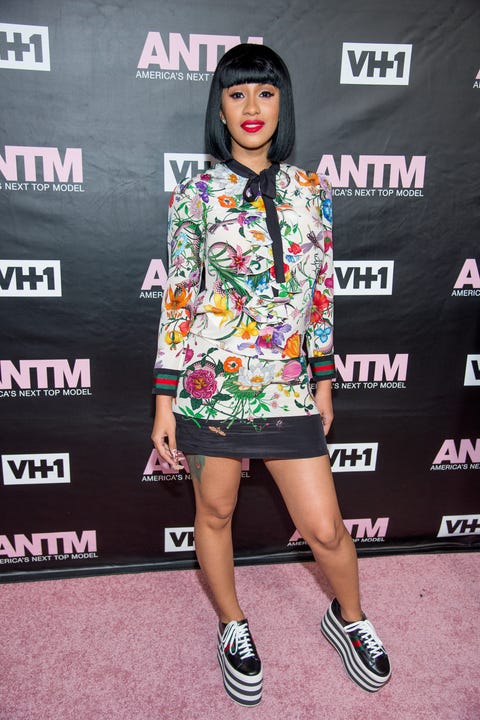 Elle Fanning, Taylor Swift, and Kourtney Kardashian can also often be spotted wearing the white ace models. Often different silhouettes futuring pretty and colorful patches.
Gucci Ace Sneakers
The Ace sneakers are retro-looking low-top shoes with changing looks, often featuring patches, fabrics, studs and prints. Gucci describes their Ace shoes as:
"Reminiscent of vintage shoes from the '70s, the Ace sneakers are reworked in a variety of colours and details, and defined by the Web stripe."

Gucci.com
Now onto the bestselling pairs! Just click the corresponding photos to go directly to Farfetch, to get your newest pair(s).
Positively Conscious - Gucci 'Ace' Sneakers
Positively Conscious Gucci Bestickte 'Ace' Sneakers
Gucci Rhyton
The Rhyton Gucci shoes are sneakers designed with a bulky construction, supported by a thick sole. The design of the sneaker draws inspiration from retro influences in leather, together with vintage inspired prints from the 80's on top.
Rhyton Sneaker mit Logoprint
Gucci x Bananya Rhyton Sneakers
Gucci Sneakers with print
Gucci Ultrapace sneakers
The Ultrapace models from Gucci draw inspiration from the world of running shoes. The sneaker enters a new chapter with it's futuristic looks, and an evolution of earlier Gucci designs. These ones honestly, give me Sketchers vibes, but in a good way?
What pair is your favourite? Mine are definitely the Rhyton sneakers!
Also, don't forget to check out our Sneakerjagers App. The app has our super cool release calendar, plus all our blogs, in one very handy overview. Moreover, the app gives you notifications with every new release, early drop and restock!