Nike gives us a real treat with a new Air Force 1 React. The timeless silhouette of the Air Force comes as React and therefore with really nice details. In this blog you can read everything you need to know about the new Nike Air Force 1 React QS 'White'! We also take a look behind the scenes at Nike, or have you never wondered where exactly the name 'Nike' and its logo (the Swoosh) come from?
Release details: But let's start with the most important information about the sneaker. The Nike Air Force 1 React QS 'White' will be available directly at Nike on Friday, May 8, 2020 at 09:00 am. If you want to wear this cool look, you should have €120 for it.
For all those who can't wait anymore: Click on the button below to go directly to the shoe in our Release Calendar. But if you want to have a closer look at the shoe after all, then I advise you to stay tuned. Have fun!
Air Force 1 React QS 'White' - the details
You might have already seen it on the little picture of the button. Or you might have thought a little bit while reading the name of the shoe - but the sneaker comes in white! Crazy, right? Ok, jokes aside. We get a white upper from a mix of mesh and suede. In addition we get a Swoosh that stretches all over the outside of the shoe and reflects on top of that. So you'll stand out even in the dark with your fancy new kicks!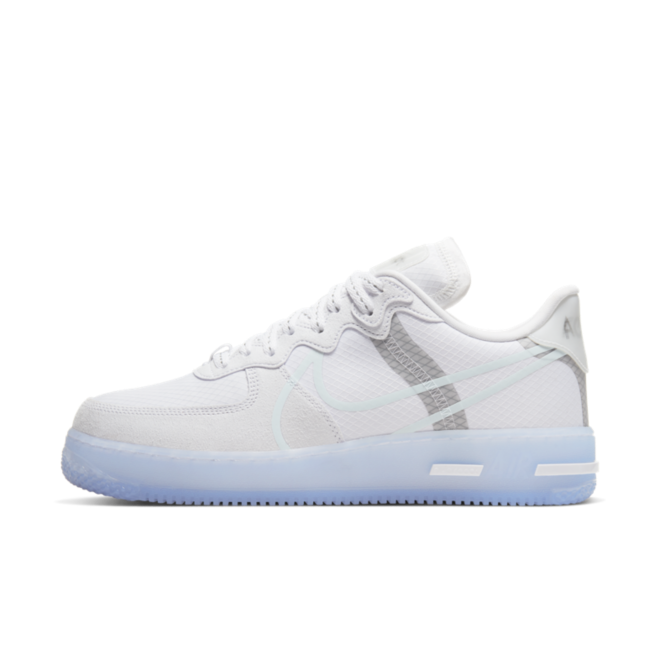 A striking feature is the sole, which here comes in a very icy blue tone. And before any questions arise: This Air Force 1 sole features the infamous Air Technology. Because without, we can't imagine this sneaker icon anymore, can we? And speaking of sneaker icons, have you read Maren's blog about the history of Air Force 1? If you haven't, then you should definitely do it! Click on the button or the link in the text to get there directly.
Now I don't want to digress any further. Let's get to a really nice detail on the sneaker. Do you remember those wobble pictures from your childhood? With them you could always see 2 different things if you held it a little bit different. And that's exactly what we find on the heel and tongue of the new Nike Air Force 1 React QS 'White'!
Not only do we get the regular Nike Air logo on the heel and tongue, but we also get a React branding. If I've confused you a bit now, I can understand that, but I'm really excited about it! Check it out yourself:
This sneaker is really something special. White - this color is always trendy on the shoes anyway - and then there are the cool details, so you make a great look perfect!
React - more comfort is not possible!
If the sneaker has already convinced you visually, then it will definitely convince you with its functionality. Because with this sneaker you will get a lot of wellness for your feet. But why is that? Well, quite simply because of the insole with React technology. It is a little thicker than the normal insoles and has a special structure on the surface. Yes, rather small pimples some people would say.
This is exactly what the insole looks like. These little nubs on the sole stimulate the blood circulation in your feet. This allows you to go shopping in the city for a longer period of time or to go for a long walk without feeling that you have run your feet flat afterwards. So this Air Force 1 comes with two really cool technologies that cushion you every step and give you a great walking experience. Makes you wonder, what more could you want?
Before we get to some background information about the Nike brand, I'd like to give you a few more insights into the shoe and of course all the details about its release:
Release details: The most important information you need if you want to own the sneaker is: May 8, 2020 - 09:00 am - €120. Use the button below to get back to the shoe!
Who is this Nike guy?
This Nike guy? Actually, Nike is a female name. Because the name Nike originally comes from the Greek and means 'the winner'. Nike is the name of the Greek goddess of victory. She is the patron saint of rulers and warriors. When people used to pray to her, they believed that she could positively influence a battle. And that's exactly where the company's name comes from. Well, we would have cleared that up, but how did this little tick-tick come about that we all identify with Nike?
It's also called Swoosh and it is very well known worldwide. The Swoosh has been around since 1971, when it was drawn by an unknown graphic design student. Carolyn Davidson, the name of the student, received just 35 US dollars for her design of today's most famous trademark. Now we know where the name Nike comes from and where the logo comes from, but how does it fit together now? Or is there no connection at all?
Since I ask like this, then there will probably be a connection. And indeed there is, because the tick or Swoosh is actually supposed to represent one of the wings of the Greek goddess. Fun Fact: Nike's founder Philip Knight wasn't too fond of the minimalist design of the logo at the time and only used it because he could get it so cheap.
Finally, after more than 10 years, Carolyn was invited by Knight personally. He presented her not only with a certificate, but also with a diamond Swoosh ring and a block of shares in the company. The amount of the share package is still a mystery, but that's what I call a really fair gesture, isn't it? And that's how Nike got its name and logo.
Give me more!
I hope you enjoyed the story and you got a small glimpse behind the scenes of Nike. If you're more interested in stories like this one, just visit our Newsblog. There we will not only introduce you to sneakers, but also chase after one or the other exciting story about your favourite brands.
And if you still haven't found the right Nike sneaker for you, then get inspired by our Sneaker Collection. Besides the different Air Force models, we also have Nike Air Max 90, Air Max 270, Air Jordan and many more cool silhouettes for you. Here you will definitely find what you are looking for!