In April 2021, Karhu dropped a new pack called the 'All-Around' pack. The pack has as inspiration the Decathlon, or the 'All-Around'. This is an athletic event that was sponsored by the Finnish brand in the 1920s. As a tribute to the event, Karhu came up with a six-piece trainer collection. But now, in May 2021, there will be a second drop of the collection. Check out the Karhu 'All-Around' pack 2.0 below.
Karhu Legacy 96
The first model from the 2.0 version is the Legacy 96. The trainer comes in the colorway 'Spa Blue'. There are blue details on the trainer. Besides that, there are gold details and some parts are made black. The base of the trainer is kept white, as can be seen on the upper, sole and laces.
Karhu Fushion 2.0
Also in the pack, is the Fushion 2.0 model and it comes in two colorways. The 'Silver' colorway also has a white base. Noticeable are the shiny silver parts on the front and back. There are also bright yellow details on the sole and tongue. To finish the trainer, turquoise details are added around the laces.
The second colorway on the Fushion 2.0 model is the "Vetiver". This base also has a fresh white colour. More suede has been used on this version. This material can be seen on the grey toe and the dark blue heel. The coral red details make for a unique colour combination.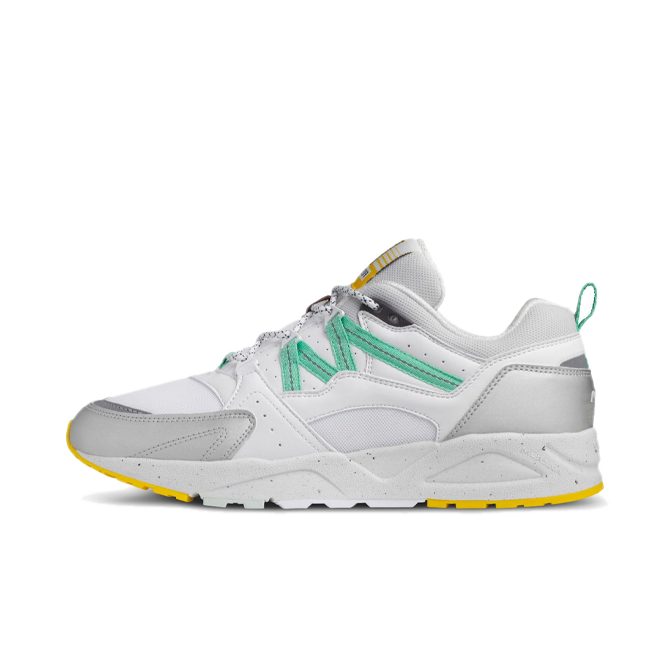 Karhu Synchron Classic
The next model is the Synchron Classic which features the colorway 'Jade Cream'. The name is not difficult to understand, the base has a grey cream colour and the outside shows the green jade colour. The upper consists of suede overlays and has a mesh base.
Karhu Aria 95
The Aria 95 'Frost Gray' also consists of suede parts, each of which contains a cool shade. There is a mauve colour, a light grey shade and a darker shade on the front. The coral red details on the uppers are made from leather.
Are you happy that there will be a 2.0 version of the Karhu 'All-Round pack? The trainers officially release on May 8, 2021, but some retailers already start selling May 7, 2021 👀. Curious which retailers these are? Check our release calendar. Also download the Sneakerjagers App to always get a notification when a new trainer is released.