When you think of skate brands, you think quickly of Baker, Enjoi, Huf, Independent, Spitfire and Polar. Besides these big skate brands, there is one more brand that has taken over the skate world since 2002. We are of course talking about Nike Skateboarding. We are in the middle of the SB Dunk Hype and nowadays these sneakers are worn more for lifestyle than for skateboarding, but where did it all start and how did Nike Skateboarding originate?
Ever since skateboarding started, it has always been an underground culture, until it first became a trend in the 90s. Brands like DC, Etnies, Emerica and És footwear suddenly became a lot bigger. Nike wanted to take advantage of this and in 1996 brought out the Nike Choad, Snak and Schimp. In the process, Bam Margera became Nike's first Team rider. The skate community did not like this. They thought Nike was too big a company and they didn't like the sneakers it made. But how did Nike become so big in the skate world?
Have a go at Nike Skateboarding
In 2001, Nike hired Sandy Bodecker as the head of Nike Skateboarding. He noticed that people had been skating on Nike models for a long time. They already used the Nike Blazer and the legendary Air Jordan 1. At that time, these Nike silhouettes were a lot cheaper than skate shoes, super comfortable and had a lot of grip on the board.
Sandy Bodecker had the idea to release the upcoming Nike SB sneakers in small quantities and not to sell them in big sports shops, because skateboarders didn't care about that. Also, it must have been nonsense to make a whole new model, since people already skated on Nike silhouettes. That is why Bodecker had the idea to make the 1985 Nike Dunk into a skate shoe.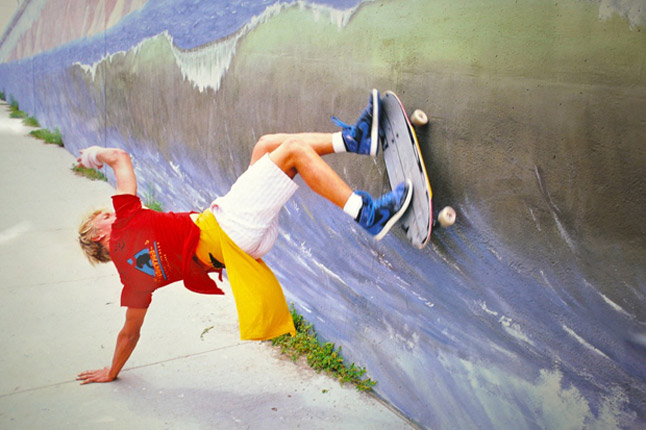 Of course, some adjustments had to be made. The insole was made a lot thicker to make the landing softer and the sole was designed to have better grip on the board. But the biggest change to the sneaker was the tongue. The tongue was made a lot thicker and fitted perfectly in that time.
To gain the trust of skateboarders, Nike hired four skateboarders for their team. These were Reese Forbes, Gino Lannucci, Richard Mulder and Danny Supa. All four skaters also got their own Nike Dunk colorway. Nike finally got confidence from the skateboard community and the Nike SB Dunk was finally seen on the feet of skaters. The SB Dunk was not only good to skate in, but also looked cool.
Nike SB Dunk Low Collaborations
It was time for Nike to take Nike Skateboarding to the next level. They did this through collaborations. Brands such as Zoo York and Chocolate first began to collaborate with Nike. The two brands released striking and never-before-seen colourways on the Nike SB Dunk. Later, Nike released an SB Dunk Low in collaboration with skate shop Supreme. This was before the big hype and campouts we know today. Together they released one of the most legendary sneaker ever: The Supreme x Nike SB Dunk Low 'Black Cement' and 'White Cement'. This was the first non Jordan sneaker to use the iconic elephant print. Suddenly, skateboarders weren't just skaters anymore, they were sneakerheads.
In the mid 2000's more and more campouts started and Nike released many sneakers that all had their own story. Nike SB started collaborating with non-skate brands like Levi's and released several SB Dunks featuring artists such as Futura, MF Doom and De La Soul. The Nike SB Dunk Low became one of the most collected sneakers of the time!
Eventually, tastes changed and the SB Dunk hype died down. Nike SB has grown tremendously over the years and signed Nike pro skaters Paul Rodriquez, Stefan Janoski and Eric Koston, all three of whom got their own model. Sneakerheads eventually started focusing on models like the Air Max 1 and Air Jordan 1, and the Nike SB Dunk hype went away. For a long time, the SB Dunk hasn't been in the spotlight, but the iconic sneakers have returned since the end of 2019.
Are you a fan of the SB Dunk and have you been able to get your hands on some classics over the years? We hope to have given you a little more knowledge about Nike skateboarding and how sneakers like the SB Dunk Low have had such an impact on contemporary culture.
Keep an eye on our release calendar to make sure you never miss a future release!