The first images of a new adidas Yeezy sneaker have been shared. The well-known Boost 700 V2 model gets a new colorway with a special twist - there are transparent parts on the sneakers! Take a quick look at the adidas Yeezy Boost 700 V2 below to check these out!
adidas Yeezy Boost 700 V2
The adidas Yeezy Boost 700 V2 has been given a light colourway. What is striking about this design, is that the upper consists of transparent parts. Underneath a kind of gauze-like synthetic material, you can see other layers. Underneath you can see, for example, the fabric eyelets that connect the laces. Also noticeable is the brown outsole, underneath the thick white Boost sole. Also, the dynamic lines of the Boost 700 V2 have been incorporated on the sneaker again.
It has not been confirmed, but there are speculations that the shoe contains sustainable materials, as adidas has introduced a new material called "PRIMEGREEN". This is a sustainable construction of at least 50% recycled materials.
Yeezy
Kanye West continues to innovate his shoe collection with his Yeezy brand. His unique designs sell out quickly time and time again. The futuristic sneakers really stand out and each design fits well with the Yeezy concept. Since 2020, unique slippers have also been created, including the open-toed Yeezy Slides and the Foam Runners. The brand also dropped a new model in 2021: the Yeezy 450. The strange sole caused controversy, but Kanye doesn't seem to care. A black version of the model is already in the pipeline.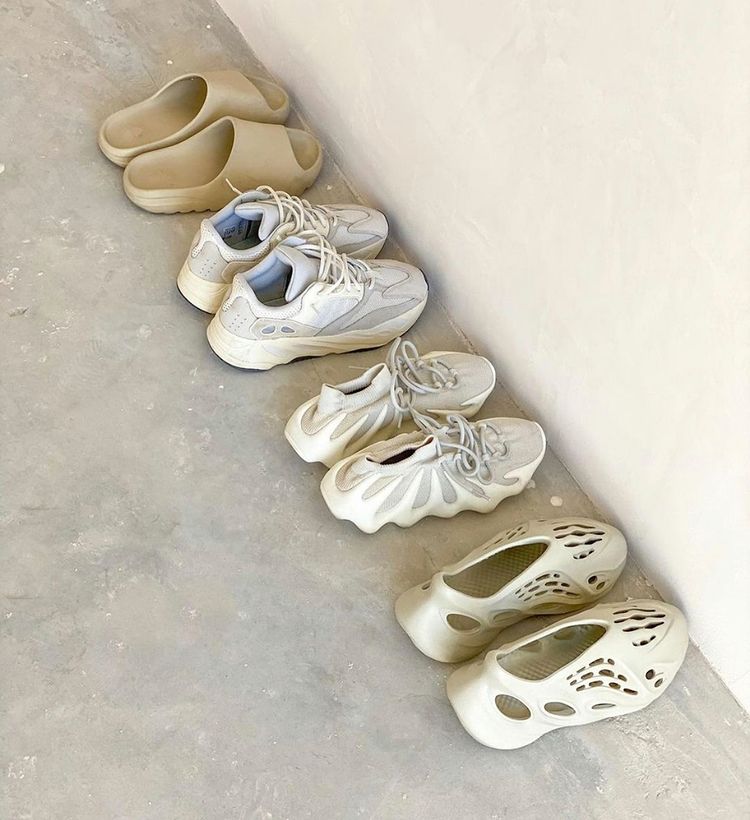 When the adidas Yeezy Boost 700 V2 with transparent parts will be released, has unfortunately not been shared yet. Perhaps the pair will come out as early as Summer 2021, for which the light colours and transparent upper would be well suited. In the meantime, keep an eye on our Release Calendar and our Blog, where we will keep you updated on the latest sneaker releases!