After the successful release of the Stussy Nike Spiridon comes the Size? x Nike Spiridon! Size? celebrates its '20 year anniversary' and collaborates here with Nike. And you our beloved community, will get all information about the retailer's exclusive Nike Air Zoom Spiridon Cage 2 'Carnaby' here! The nice kickz will be releasing on July 11, 2020 for €140, so heads up and be ready for the drop! You'll also find a button at the bottom that will bring you straight to your shoe! Let's go!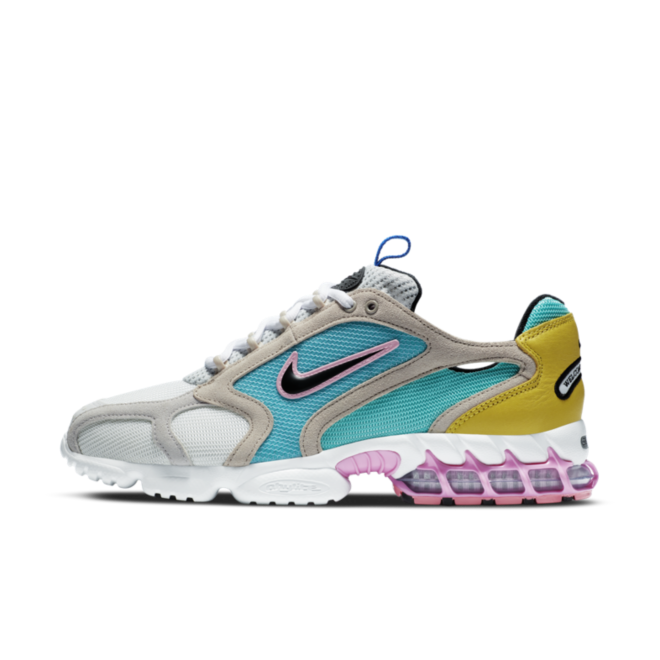 History check!
The Nike Spiridon Cage silhouette was not designed and created by Tinker Hatfield but by Steven Smith. Yes dear community of designers is Steven Smith and not Stan Smith! But wait, there is the adidas Stan Smith Silhouette and Steven Smith is no longer working for Nike but for Kanye West! Hmm… nah Steven Smith does not work directly for Kanye West as a bodyguard or no idea what, but Steven is design director of Yeezy! Crazy!
Back to the Nike Air Zoom Spiridon Cage 2 silhouette. Steven Smith initially designed the silhouette especially for the Japanese market and the Spiridon was well received in Japan so it is now available worldwide! The Spiridon model was redesigned again and yes, the hype is now very big!
Cranberries... ups Carnaby!
Have any of you ever been to London? Because there is a street called 'Carnaby Street' and it is one of the most famous shopping streets in the city! The Size? x Nike Spiridon Zoom Cage 2 'Carnaby' got its name from the street! Why? Because this colorway should reflect the 'Carnaby Street', but yes, I have never been to London and can't confirm that. But at least I am up to date now!
The Size? x Nike Spiridon Zoom Cage 2 'Carnaby' is made of mesh suede and leather. The colorway inspired by 'London's Carnaby Street' gives the shoe the final kick. But that's not all, this kickz have another highlight! On the heel there is a 'Label / Sign' with the following text: 'Welcomes The World'!
Is the Size x Nike Spiridon suits you not at all? So the upcoming sneaker releases like the Nike Air Max 95 and other Nike Air Force 1 models can be found in our Release Calendar and if you are up for it, take a look at our Sneaker News!