Sam Zegelink, designer and founder of the Saint Muze brand, started designing her well-known puffer bags in 2020. Something that started as a corona project has grown over the past three years into a popular bag brand among sneaker lovers, with an eye on sustainability. Sam has big plans for Saint Muze for the next year.
Saint Muze
Sam Zegelink (22) was 19 years old when she started Saint Muze in 2020. What started as a corona project soon grew into a full-time job. "I started by selling and sharing my bags via Instagram. I would sometimes get requests for a bag," Sam explains. "This was pretty gradual at the beginning."
The bags Sam designs are 1 of 1, meaning each bag is handmade and one-of-a-kind. What started as an independent project has become a well-known company among sneaker lovers.
The platform Hypebae played a big role in Saint Muze's success, Sam says. "In time, Hypebae posted one of the bags and within one night Saint Muze (@saintmuze) gained a huge number of followers. I got requests from all over the world and since then it has gone really fast." So fast, in fact, that Sam is currently looking for her own workshop and team to expand Saint Muze's line.
According to Sam, Saint Muze's success lies in the fact that it's a company that designs with sustainability in mind. The bags are made with second-hand clothes and are designed upon request. "I didn't expect Saint Muze to become as big as it is now. I find it very special to see that it inspires people to think more sustainably as well," Sam says.
Sustainability is key
Sustainability is therefore one of Saint Muze's core values. Since childhood, Sam has been concerned with sustainability: "When I was in high school, I did a presentation on fast fashion. I learned about the industry and found out how bad the fashion world was for the environment." This resulted in Saint Muze. "I wanted to create a brand that did not involve child labor and was available to everyone," says Sam. 
At the time, she noticed that there were not as many brands that produced clothes in a sustainable way, and those that did were very expensive. "You also just want to look nice at that age," says Sam, "so when sustainable clothing is very expensive, it makes it very difficult for you to make that choice with your minimal wages." This needed to change. With Saint Muze, Sam aims to create clothes and accessories that are made in a fair and sustainable way, but are also available to young people her age.
According to Sam, the term sustainability has increasingly become a norm since Saint Muze was founded. "Sustainability in the clothing industry is becoming more common. When you used to mention the term sustainable, people quickly thought of green, woolen clothing. That is changing though, there are a lot more cool sustainable brands these days."
Story behind the designs
Sam also notes that the fact that Saint Muze is sustainable makes many customers even more enthusiastic. With her bags and designs, Sam can often be found at various events, including Sneakerness, a well-known event among sneaker lovers. "When I attend such events and people are interested in my bags, they often get even more enthusiastic when I tell them that the designs are made from recycled materials. That's really nice to see."
In the next collection, Sam wants to bring even more attention to sustainability within Saint Muze. Not just selling bags, but also telling the story behind the designs. "We are now also working on showing more behind the scenes what the bags are made of so that the customer gets the whole story of the product," says Sam.
Working method Saint Muze
There is quite a lot of work behind a Saint Muze bag. As the brand is run independently by Sam, she can be found behind her sewing machine daily, making around 15 bags a week. This starts with an extensive search on the second-hand platform Vinted. "I scroll on Vinted every day for suitable items," Sam says. "At first I bought in bulk, but I soon noticed that there were a lot of unusable things among them. The shirts, jackets, or trousers I get on Vinted. I then go and cut them all up."
The puffer bags, Saint Muze's most popular designs, are made from vintage items from brands such as Nike, adidas, Stüssy, and The North Face. Shirts are cut up and 'stuffed' to then serve as bags. In addition to Saint Muze's current collection, customers can also make requests. In these requests, specific wishes can be passed on. "I once made a puffer bag for Celmatique. She had given me a pair of pastel-colored trousers and wanted a matching bag with it. I had to search for days on Vinted to find that same color." says Sam. "That is sometimes a challenge, but it also makes it fun."
Despite Saint Muze's wide range, there is one particular item that sells out in no time by default. "The Nike puffer bag, that really does remain the fan favorite," Sam says. "I think 85% of everything I make is from Nike." Although Sam still gets a lot of pleasure out of her work, she finds that the great success of her own brand also comes with a lot of pressure, especially after December. "This Christmas was crazy, when you're behind the sewing machine day and night, you do get fed up."
Expansion Saint Muze
This is also the reason why Sam is currently looking for her own workspace and wants to expand the team. "I very much want to start expanding, that's my goal for 2023; to have a small team with its own studio." The year 2022 has been a strong one for Saint Muze. In September, Sam held her first fashion show in America and plunged back into designing clothes for the first time in ages. Saint Muze began as a clothing brand and, according to Sam, designing clothes is still the brand's goal: "In fact, that was my intention with the brand; to make clothes that are available to everyone."
During this fashion show, there were some items that really stood out. So much so, that Saint Muze is now going to release them on a large scale. "In January, I will release my first Saint Muze suit. I'm very excited about that." The suits are something very different from the bags we are used to from the brand. "I'm excited about that too," Sam explains. "For example, the suits are really from the Saint Muze brand, not from Nike or other brands I use in my bags."
The brand's clothing line also focuses on sustainability and the items use left-over fabrics from big companies. Currently, Sam is busy putting down her clothing line. "It is secretly also very refreshing to do something different again," she says. We can expect the first items from the clothing line in January 2023.
Future
The brand's clothing line also focuses on sustainability and the items use left-over fabrics from big companies. Currently, Sam is busy putting down her clothing line. "It is secretly also very refreshing to do something different again," she says. We can expect the first items from the clothing line in January 2023.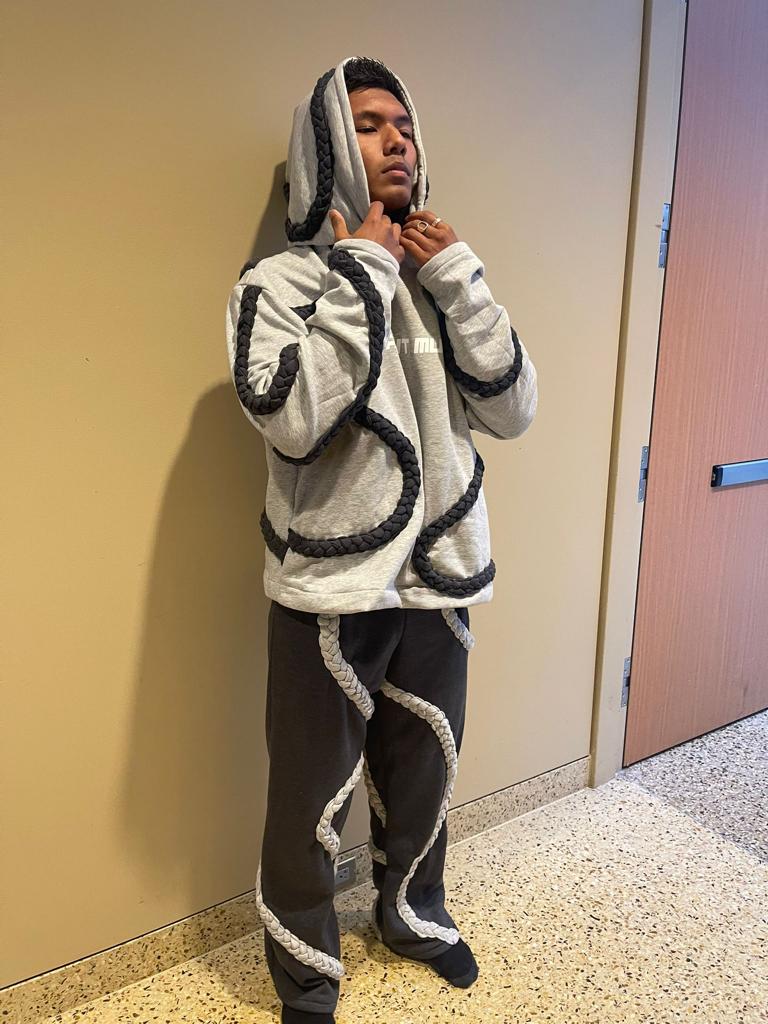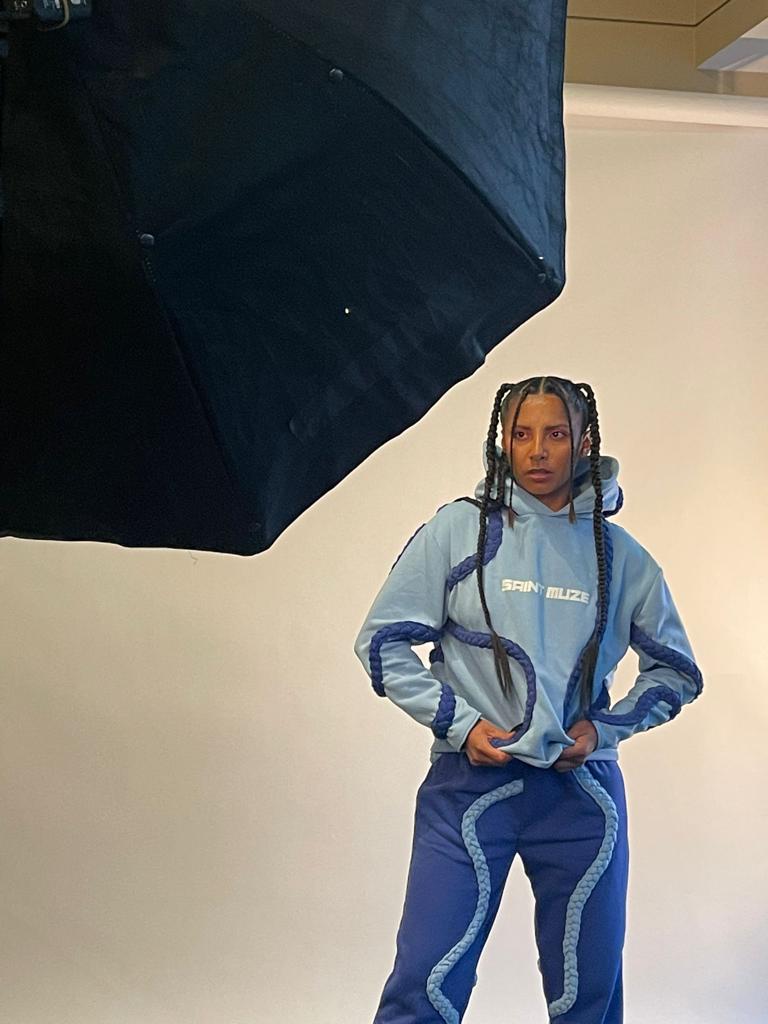 When asked what Saint Muze will look like in ten years, Sam had to think for a moment. "I hope Saint Muze will be in a big department store in ten years' time, that seems really cool. I also think it would be cool to collaborate with existing brands and upcycle their items. That could be something really cool."
For next year, Sam is focusing mainly on designing her clothing line and hopes to have a studio in Amsterdam by 2023.
"Maybe an ambitious plan, but a girl can dream."

Sam