Sacai x Nike enters the third round. Together with Sacai, Nike has already released some LD Waffle and Blazer collaborations, now the third model, the Nike Vapor Waffle is coming. Some time ago the kickz were leaked on Instagram and Twitter. Now it's time for the Sacai X Nike VaporWaffle 'Sail' to finally release. As a possible release date the 20th of October is currently being considered, but this may change. PY_RATES recently reported, that a release on the 6th November seems likely. So we can just wait and see till Nike or Sacai confirm anything. No matter if that changes or not, you can find the retailers, who will sell the sneaker by clicking the button. Even if the release date changes, you can see this immediately, by clicking the button. ⬇️⬇️⬇️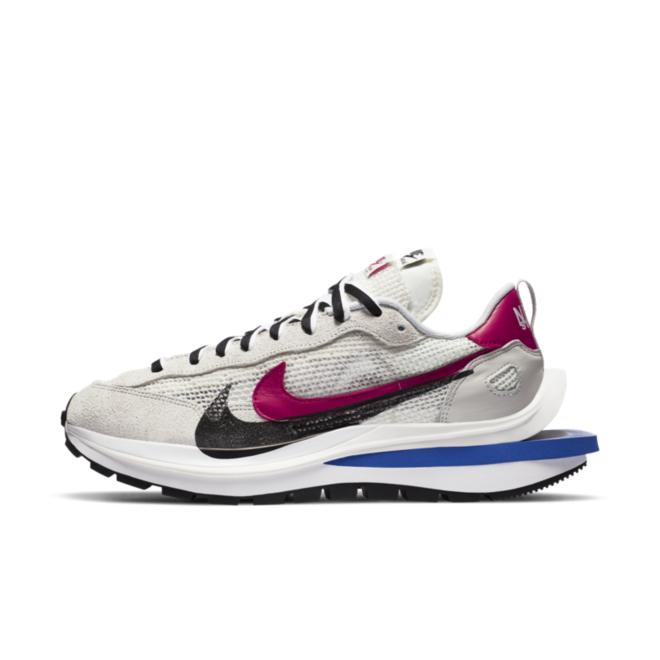 The Details of the Sacai x Nike VaporWaffle 'Sail'
The collaborations between Chitose Abe's Japanese luxury brand Sacai and Nike have recently been some of the most hyped sneaker collabs. This will not change with the next release, because the hype is still there. The Sacai x Nike VaporWaffle 'Sail'/sport fuchsia/game royal is like all previous Nike x Sacai releases, a very fancy sneaker. The double swoosh on the pure Platinum Upper is very striking. The upper swoosh is in a red colour, which can also be found on the heel of the shoe. The second swoosh is in the same black, as the sole of the sneaker. As with the Waffle LD, the heel of the Collab is the most exciting detail. Again, a part of the heel is extended and sticks out. In this model, the protruding part of the heel is in game royal blue.
So now there are a few pictures for you, so you can have a better look at the shoe and afterwards some more information, about the release.
Dear Community what do you think? Cop or drop? As already mentioned, the exact release date has not been confirmed. PY_RATES also states, that three other color ways will release in addition to the Sail Colorway. Stay updated to see how the next Sacai x Nike trainer release will go. In addition to our blogs, take a look at our Twitter @sneakerjagers and on Facebook you will get all the information about the topic. So follow us on Twitter and like our Facebook page, for the latest updates on new sneaker releases.