The Medicom Toy Nike SB Dunk Low is coming out soon! But wait, haven't we already reported about this kickz? Yup, whoever thought that was right! But we got more information about this kickz and we want to share it with you, dear community, here and now! We are going for a hunt and you only need to catch the pray! Let's Go!
By the way: The Kickz will be available from selected retailers on 22 August 2020 (official release). The pairs will come in Full Family Sizing (Pics can be found at the end of the blog). Furthermore, the Kickz will be released at certain skate shops, just like the other SB Dunk models. Be curious! Below you will find a button that will take you to the retail list!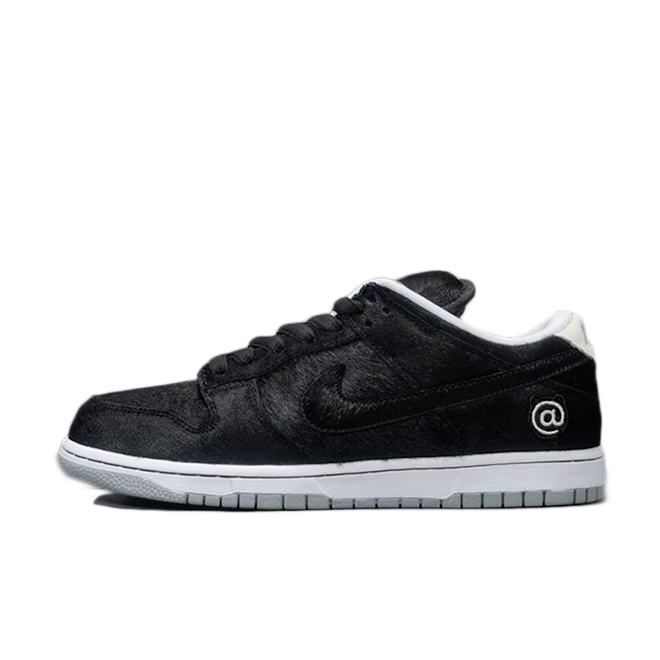 Medicom Toy x Nike 2020
This collabo takes once again place on the Nike SB Dunk Low silhouette. Already in 2002 the SB Dunk Low Elite '[email protected]' was released and in the following years numerous Medicom Toy x SB models were released. This year 2020 we get another Nike SB Dunk Low and not just one! The Kickz comes in Full Family Sizing - so GS and Kidz Sizes will also be available.
The Medicom Toy x Nike SB Dunk Low comes with a black pony hair upper. Yup, you heard right! The whole upper of the Dunk is covered with a black Pony Hair! But the Heel Tabs are made of white Pony Hair. Also coming on the same day are the famous Faux Furs Medicom Toy figures. The figures appear in the sizes 100%, 400% and 1000%. The *Leaks* from these collab showed the Nike SB Dunk Low with a translucent brine, but the Kickz come with a grey outsole and a white midsole. You can also find the 'Mail protected logo' of the Medicom Toy on the tongue and on the side of the shoe. Below you can find the pictures of the Kickz! Enjoy!
Déjà-vu?
It makes *tap* *tap* on my shoulder, and Kevin tells me that this colorway was already released before. The kickz that Kevin meant are also from a Medicom Toy x Nike Collab! The pics of the Kickz that were released in 2011 can be found below! Let's Go!