"What goes around comes back around! Bring back the 80´s! Vintage Love!"

-Everyone, always-
Reebok is retro. Few brands bring out such a strong retro vibe as Reebok! In keeping with the vintage hype that's influencing music, fashion and culture, we bring you must-have Reebok classics and show you which deals will save you pennies.
If you take a closer look at music, fashion and sport, you can see a common thread. Old is combined with new. The Weeknd raps on retro beats, the denim jacket is branded and hyped and the fitness gear looks like Arnold Schwarzenegger himself is still hitting the gym.
We're celebrating this hype and that's why we're introducing you to the 'Best of Reeboks', whose origins lie in the fitness trend of the 80s and combine classic models with the latest shoe technology.
You can't wait and want to go on a discovery tour yourself… here is an overview of all Reebok models.
Pump it up - 80s
Pump classics:
You can't get more hype and more 80s than this: the Reebok Pump series with all its history and diversity is the epitome of cult! Celebrated in the early 80s by top athletes, especially basketball players, the 'Pump' really came into its own with fashion-conscious sneakerheads at the end of the decade.
The Reebok Pump Omni Zone II and its countless variations and collaborations are inspired by the 'ball'.
These are the result of a collaboration between Juun.J, a well-known designer from Seoul, and Reebok. High-quality leather uppers give the 1991 silhouette a high-fashion effect.
Rooooar! This collabo with Jurassic Park seems roaringly dangerous. Not extinct, but almost sold out, the kicks are only available from selected retailers. Check out the Shoebox.
Vintage x Future
The chunky silhouette with the heel-like sole gives the 'Fury Pump' and 'Fury Instapump' versions a classy and retro look. The Pump technology, which replaces classic laces with air chambers for a customised fit, stability and comfort, gives the sneaker a modern and futuristic design. Suitable for sports and street!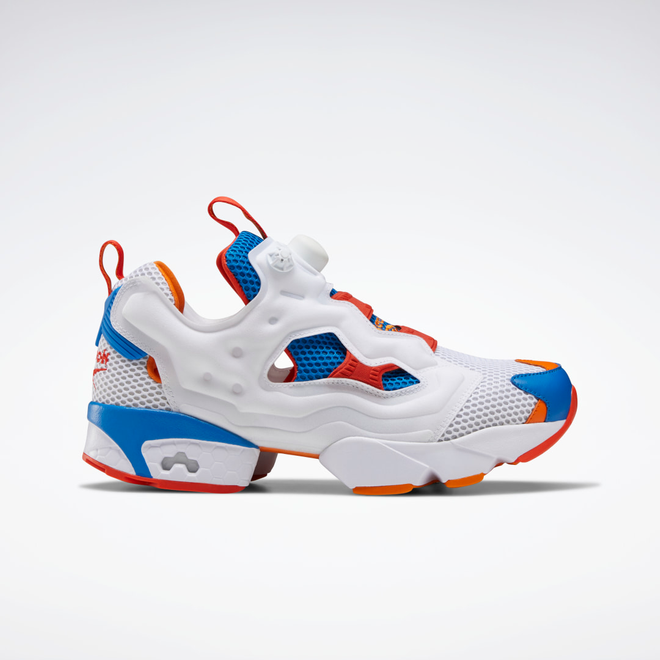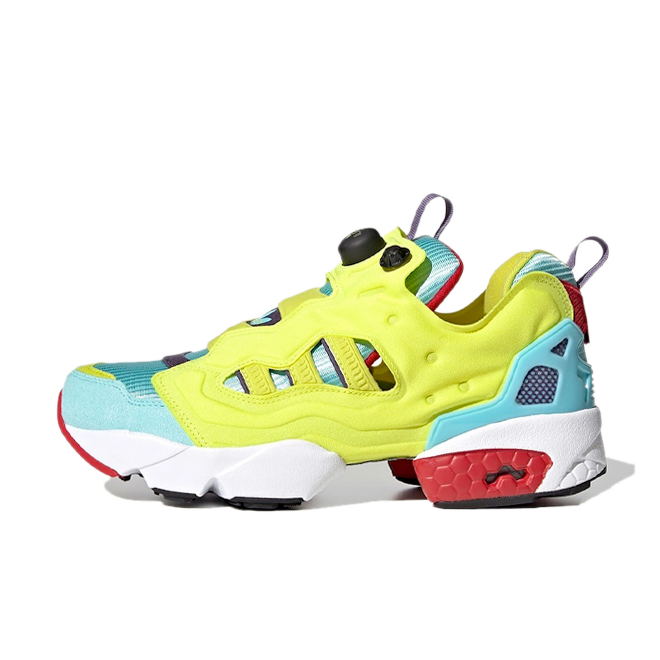 A masterpiece of the Instapump version and a sporty elegance that is second to none is found in the collaboration with Parisian fashion house Maison Margiela. Class has its price.
Reebok Pyro - Neon Vibes
With the Reebok Pyro, we've finally arrived on the 80's fitness scene. The sleek and modern silhouette, dressed in 80's neon colorways, invites you to break out your daddy's track suite or mommy's aerobic jumpsuit and do some dynamic stretching. Call on me!
Reebok Aztrek - Spacy
Spoilt for choice when it comes to colour selection! The spacey Reebok Aztrek comes in various colorways for men and women, but can also be clean. Originally produced as a forest running shoe, athletes from a wide range of sports enjoy the Hexalite cushioning of the platform sole. The branding and classic stripes add an extra retro touch!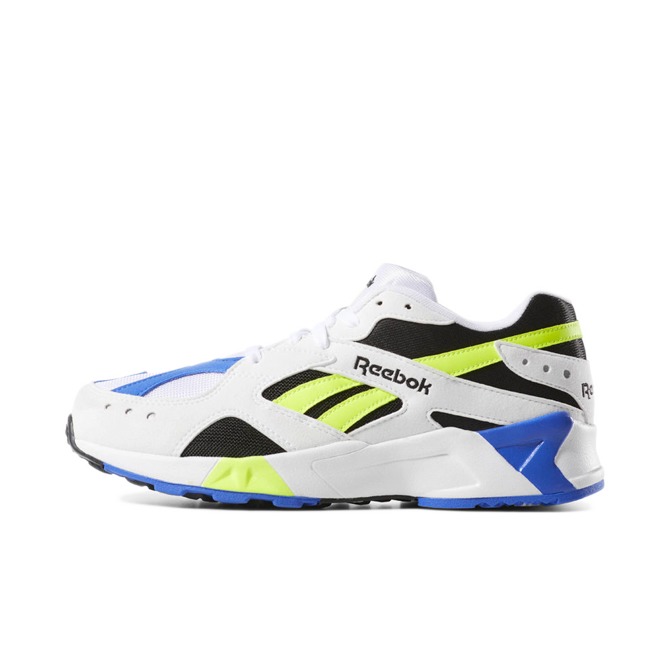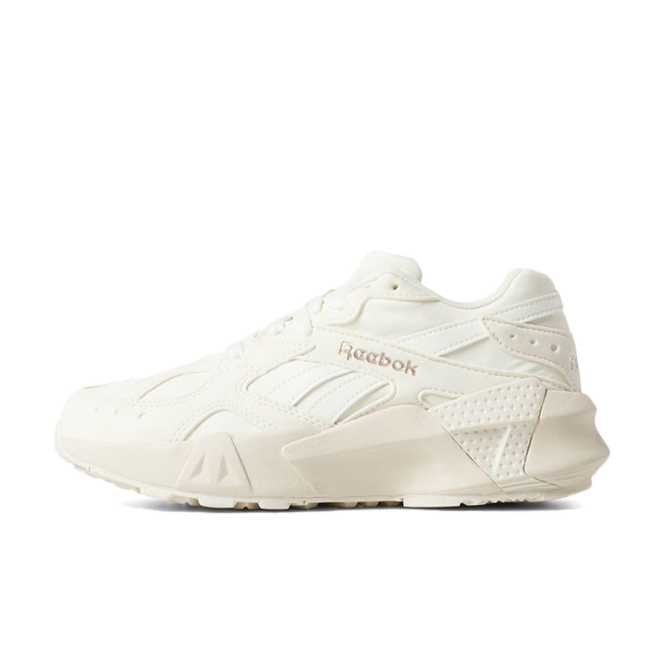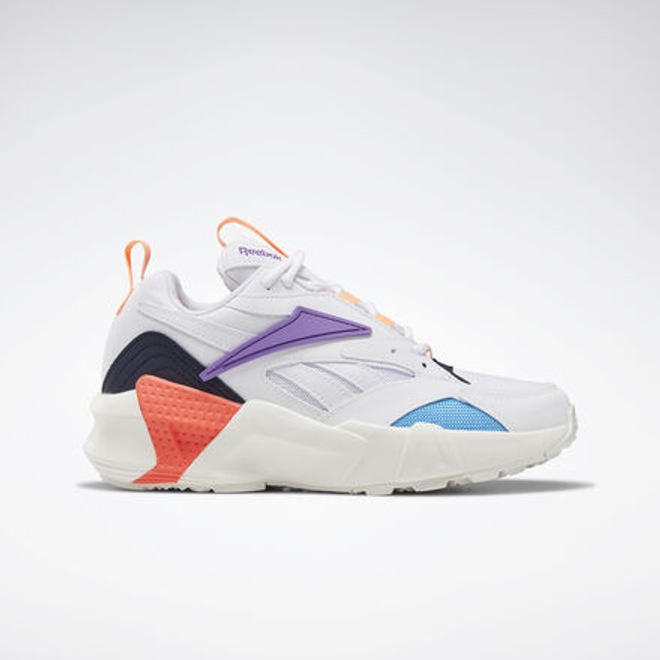 Ey Sneakerjagers, you know what you have to do to stay up to date and not miss the new Reebok launches…. That's right! Check out our release calendar on our website and set the reminder function for your favourite releases in our Sneakerjagers app! That way you won't miss the upcoming Reebok InstaPump Fury OG 'All Types Of Love'!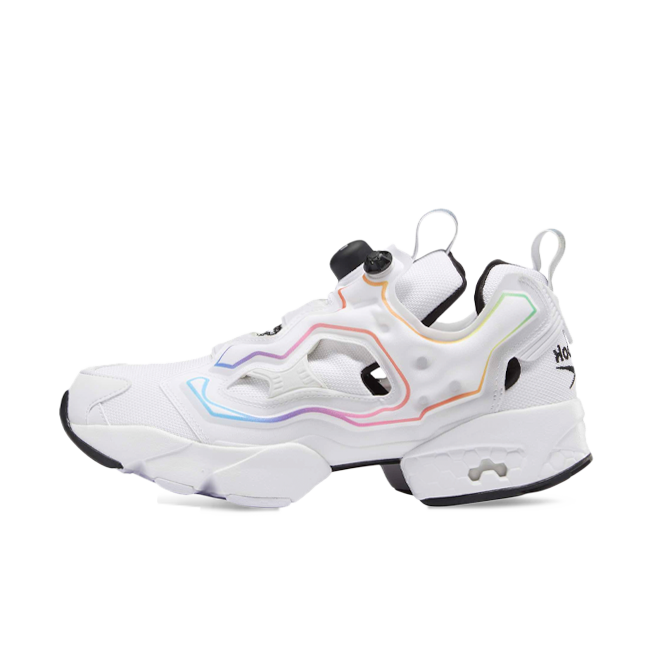 Reebok = Retro! Props go out to you, Sneakerjagers Family 🙂