So there, ladies amongst us, we've finally been thought of, have we? We are allowed to take part - with raffle and all the big stuff and dedicate ourselves to the real, genuine sneaker experience. With the hype about off-white, a good silhouette of a Jordan, a really good colorway and the abbreviation WMNS in the name! On July 25th at 09.00 am the Off-White x Air Jordan 4 SP WMNS 'Sail' will be released! Wohooo and all this without the men who steal the show with bots and crowds. But maybe I'm just a little bit too early in stage…
If you don't know what it's about yet, Josy has already told you about this special release with a lot of love. Her blog post can you find here: WMNS Club: The Off-White X Air Jordan 4 SP WMNS 'Sail' is finally here!
The Off-White x Air Jordan 4 SP WMNS 'Sail'
In summary, it's about this chic model with the typical off-white retail price starting at 200€. Yes, I'd say that a sweetheart has been knocked out, too:
They have style, I'll give them that. And it can be worn as well as paid for. Girls who want to celebrate their "rich&famous" moment now should watch out! ?
Either you get that fancy thing and steal the show in your hood, with your gang and get some nods of head as you pass by. Cause sure, whoever's wearing that thing definitely has style.
Or maybe you're copping that thing hoping to start your first resale shoe business. Because either way. The Off-White x Air Jordan 4 SP WMNS 'Sail' will bring money or a little prestige. ?‍♀️
RAFFLE - Wie funktioniert das?
Luckily we have thought of everything! Because we collect all Raffles for you on our site AND even better: You can remember your raffle registrations with us. Take a look, here: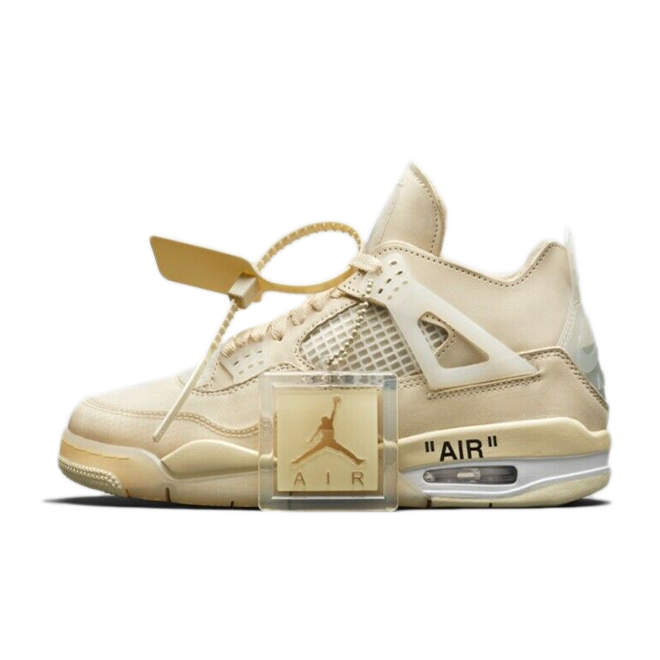 You've heard of the term "Raffle" before, but you don't really know how, where & what? Then Luis has summarized everything to you in an older blog post: Who or what is this Raffle?
For the fast ones among you I have here the 2 most important points for you to understand what is actually going on, so you don't have toread the whole story:
What is a raffle?
Sneaker Raffles is all about the raffle of the right to buy. This means that even if you win a raffle, you still have to pay the full price for the shoe. This may sound strange to outsiders, but who wants to win the right to buy something? But the way the sneaker scene has developed in the last few years, such measures are inevitable.

- Luis, #TheCrew, Sneakerjagers
Aha?! So then I haven't gotten to the shoe yet? What do I have to do? I don't look through this story anymore... ?
But also for this, Luis has a good explanation:
How does a raffle work?
The raffle of the purchase right, i.e. the raffle, usually takes place a few days before the official release of the sneaker. You indicate your shoe size and if necessary the desired color and then hope to be one of the lucky winners. There is usually a difference between an online raffle and an instore raffle. As the name says, it is either about the right to buy online or in the store where you registered for the raffle. You should know, however, that you have to be in person at an instore raffle to pick up the shoe. You will also need to bring an identity card to prevent one person from winning more than once.

- Luis, #TheCrew, Sneakerjagers
Good Luck while copping the Off-White x Air Jordan 4 SP WMNS 'Sail
As you can see, I wouldn't wait long to get started. We are curious if you could make this gem your own and would like to give you credits for your on-feet photos.