Nike comes up with a Lucha Libre sneaker collection. This collection is dedicated to professional wrestling in Mexico.
Lucha Libre
Lucha Libre is Spanish for 'free wrestling'. The term is currently only used for professional wrestling.
Mexican wrestling is characterised by the colourful and creative masks worn by the athletes. These masks are worn for a reason. If you have lost, there is a chance that you will have to take off your mask to reveal your identity.
In wrestling in Mexico, teams are often used. Especially three against three is a popular form in South America.
Nike Air Force 1 'Lucha Libre' | DM6177-095
One of the pairs from the Lucha Libre collection is the Nike Air Force 1. The leather upper of this Air Force is shiny and in silver. This makes this model stand out.
On top of the upper is a lace shroud that is inspired by the masks of Mexican wrestling. The mask on the left shoe is green with red, black and blue accents. The mask on the right shoe is black with blue, green and red accents.
The laces are through the masks. Above the Swoosh is a metal button with an illustration of Lucha Libre. This illustration is repeated on the other models and symbolises this collection. The insole of this model is red and green.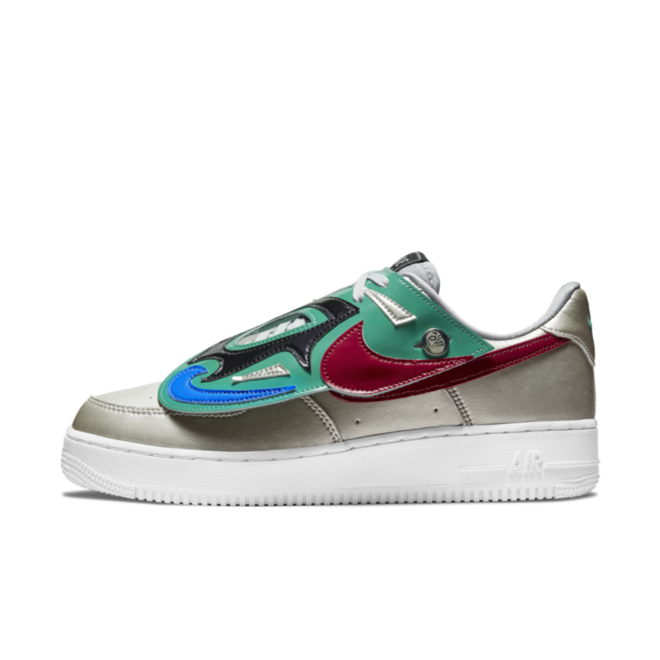 Nike Air Max 90 'Lucha Libre' | DM6178-010
The Nike Air Max 90 from this collection is a tribute to 'Les Rudos' from Lucha Libre. By les rudos, they mean the bad guys from this wrestling scene. This pair is meant for the wrestlers who break the rules and change them.
This Air Max 90 has a different design on the left and right shoe. The left trainer has a white base with black overlays and a white mudguard. The Swoosh is just the outline and is also in white. On the right shoe, the colours are reversed.
The mudguard features 'Les Rudos' and the illustration of the Lucha Libre wrestler. This is also on the Air Force 1 above. The insole of this sneaker is in blue and yellow.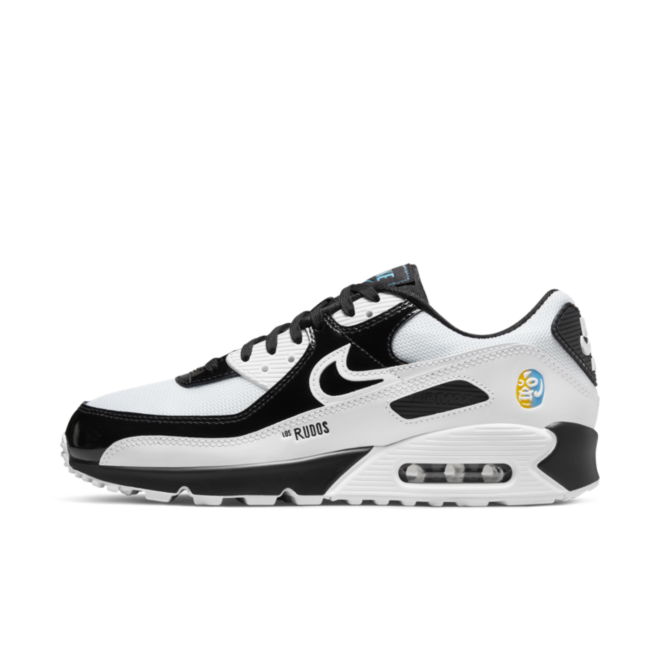 Nike Blazer Mid 'Lucha Libre' | DM6176-393
As the last model in this pack, the Nike Blazer Mid gets a subtle reference to Mexican sports. The upper part of this Blazer is made of a dark green satin. This refers to the masks and the clothing the luchadors wear during the games.
On the heel, around the nose and around the laces is a snake print. The Swoosh is gold and, like the rest of the upper, shiny. The outsole and sole band are black, as are the laces and the label on the tongue.
The insole reads "Lucha Libre" in black and green.
The release date of the Nike 'Lucha Libre' pack is not yet known. Do you want to stay informed about the developments around this release? Follow us on Instagram and check our blogs regularly.