All year long, the Air Max 90 celebrates its 30th anniversary! However, the real gift from Nike will only come at the end of the year. The Nike Air Max 90 OG Infrared, will be released at the end of the Holiday Season 2020. That we will get this Colorway this year, is something very special, which should give every Air Max lover goosebumps. Why? I'll explain it to you in a minute, first of all you'll get the release info of the OG Air Max 90.
Release Infos
The release date of the Air Max 90 Infraded has not yet been officially confirmed, but a release on 28 November 2020 is considered quite likely. As soon as the date changes, you will be informed immediately by clicking the button. There you can also find out, which stores will sell the sneaker when it is released. ⬇️⬇️⬇️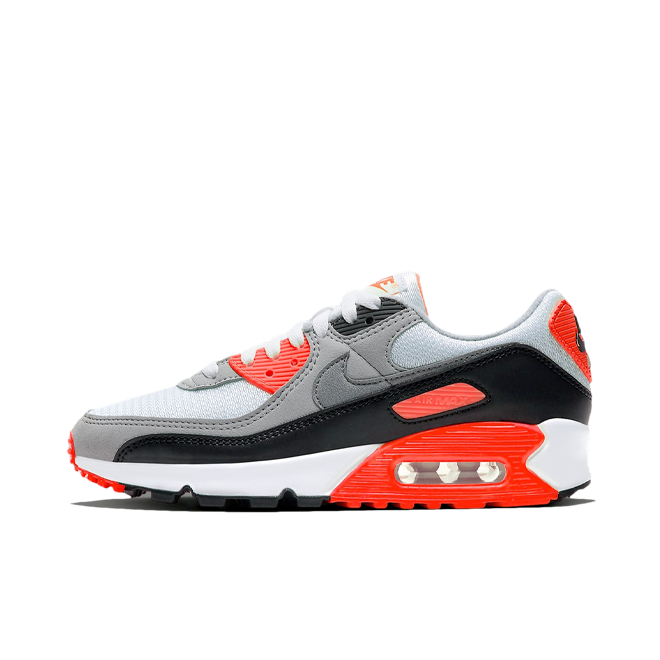 The Air Max 90 history
As mentioned earlier, the Air Max 90 was first released in 1990, but its history began much earlier. The story of the Air Max 90 actually begins in 1978, 12 years before its actual release. 1978 was the year when Nike started with the Air technology, that we all love so much. It takes another 8 years until Nike produces the first Air Max samples. The first Air Max release, the Air Max 1 in 1987, took another two years.
The Air Max 90 came in 1990 as the third version of the Air Max and was partly named Nike Air Max 3. In the first year, five different Colorways, now known as the OG Colorways, were released.
In the 30 years between the first release of the five OG Colorways, we have already seen some new releases from the OG's, but this year's are very special. For the first time the OG Colorways are released with exactly the same details, as in 1990. The Nike Air Max 90 OG Infrared is the third OG re-release this year after the 'Eggplant' and the 'Laser Blue'. If we will get the other two is not clear, but with our release calendar you are always up to date if the other two are released.
Nike Air Max 90 OG Infrared - Details
The Nike Air Max 90 OG Infrared has a Color Scheme which consists of white, grey, black and the so called Infraded. Infraded is a light red, which also gave the shoe its name. Except for the sizing label on the inside of the sneaker, all details are really the same, as the release in 1990.
Before you get some detailed pictures, a quick look, back to the release info. We don't know the exact date yet, but in the USA a release on November 7th, 2020 is already confirmed. So we expect the official release date to be announced shortly.
Finally, here are a few pictures of the sneaker.