Tomorrow, August 23, 2020, Mamba Week will start in honour of the lately deceased basketball star Kobe Bryant. A week of commemoration, mixed with great projects and also a small collection awaits us there. Also included is a special colorway on the Kobe Protro silhouette and limited edition jerseys.
Kobe Bryant has not only had a huge influence on basketball history and the sport, he has also influenced, inspired and given a lot to many personalities and people. A great personality, on and off the court. Kobe was known as a player and also as a person for always trying new things and developing himself further. He always carried this message to the outside world.
Mamba Mentality — work to get better every day, on and off the court.
The collection at Mamba Week
The Black Mamba Week is primarily dedicated to the memory of Kobe Bryant. It also supports a number of projects that preserve Kobe's values and spread them around the world. For example, one million euros will be donated to the Mamba and Mambacita Sports Foundation. This organization is dedicated to supporting children in sports, teaching them the right values and helping them to find the right path to continue Bryant's vision.
With this shoe line, Nike wants to preserve Bryant's legacy and continue to spread his style on the basketball courts of our world.
Especially on the court, he has also shaped design and innovation, also in relation to footwear. The Kobe V Protro model is now available during Mamba Week in 5 different versions, some of them in really nice collab.
All in all we will get 5 new Colorways as announced, which I would like to introduce to you in detail. Because every style has a special story to tell and there is also a nice collab. The Protro silhouette was designed by Kobe himself a few years ago.
The Kobe V Protro Big Stage celebrates the 10th anniversary of Kobe's fifth championship with its colorway. In a tattoo style you can see some details from Kobe's successful 2009/10 season on the white upper. Rounded off with golden accents a really fresh style.
We continue with the Kobe V Protro 5x Champ. A purple colorway, with yellow and black accents. Kobe Bryant was one of the best players and personalities of his generation. After his second and third title he got jackets in the championship look and that is the inspiration for this sneaker / sports shoe. A five star graphic on the insole completes the look.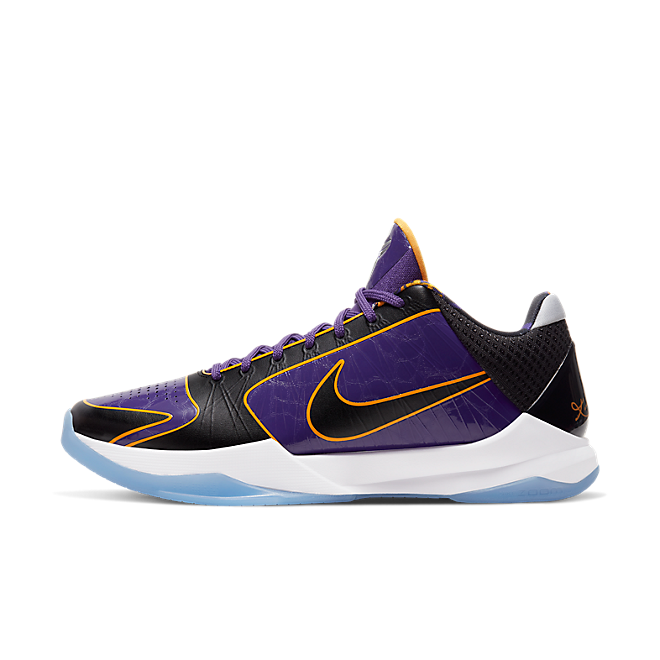 The Kobe V Protro x Undefeated What if Pack
Together with Undefeated, the brand with the swoosh has created something pretty nice here. And these colorways also have a story! The styles are inspired by the draft of the NBA* and feature golden elements to honour Kobe's successful career. The colorways are inspired by teams that competed in Kobe's time.
*In the NBA Draft, all teams in the league can acquire the rights to acquire available young talents.
Last but not least, the Kobe V Protro Girls EYBL is part of the shoe series that is expected to be released during Mamba Week. The colorway is based on the figure of Medusa from Greek mythology, who was able to petrify her counterpart with a glance. I wonder if that reminded the designers of Kobe's playing style! In any case, the shoe comes with a green upper, grey details and gold accents.
Furthermore, two jerseys in snake-look and the typical colors are also part of the collection. Both wear Kobe's old numbers. The 8 and the 24, and there are many more details to honour Kobe Bryant.
Life is too short to sit around and hold grudges; it doesn't make any sense to it.

Kobe Bryant