What's good Community, a few weeks ago Karhu already released the hockey package. This package contained five trainers and was inspired by ice hockey, a sport that has had a great influence on the development of the brand. You are interested in Karhu's History? Check this out! Now Karhu is coming with a second part of the pack. This Karhu Hockey Pack Part 2 contains the Fusion 2.0, the Legacy 96 and the Synchron Classic.
Release Infos

At the beginning the most important thing, the release info. The Karhu Hockey Pack Part 2 will be available online from Friday, 16th October, 4pm at various selected Karhu dealers. In our release calendar you will find these selected Karhu dealers per model. Here you will also find all further information about each individual trainer.
Karhu-'Hockey'-Pack 2
First of all, an explanation why Karhu released one or two hockey packs. Ice hockey is the Finnish national sport and therefore has a status like football in the UK. In Finland there are more than 300 ice rinks and thousands of frozen ponds. Ice hockey is therefore a big part in the history of Karhu. The brand also produced ice hockey equipment. In the heyday of the hockey division, Antti-Jussi Tiitola (creator of the world's first fibreglass hockey sticks, founder of the "TITAN" brand and also inventor of shoe technologies such as Air Cushion, Fulcrum and Ortix) and Karhu joined forces and worked together. The meeting of Tiitola and Karhu proved to be a golden move and the category became extremely successful. In order to celebrate this success from the past, Karhu comes with the "Hockey Pack".
Karhu Fusion 2.0 Hockey Pack 2

The first sneaker from the pack is the Fusion 2.0, this one has a white and navy blue colour scheme. The base is made of knit in a combination of leather pads. The upper half is suede and is in navy blue. The lower part is dyed white. On the tongue there is the Karhu logo, with the Finnsport logo on the side of the heel.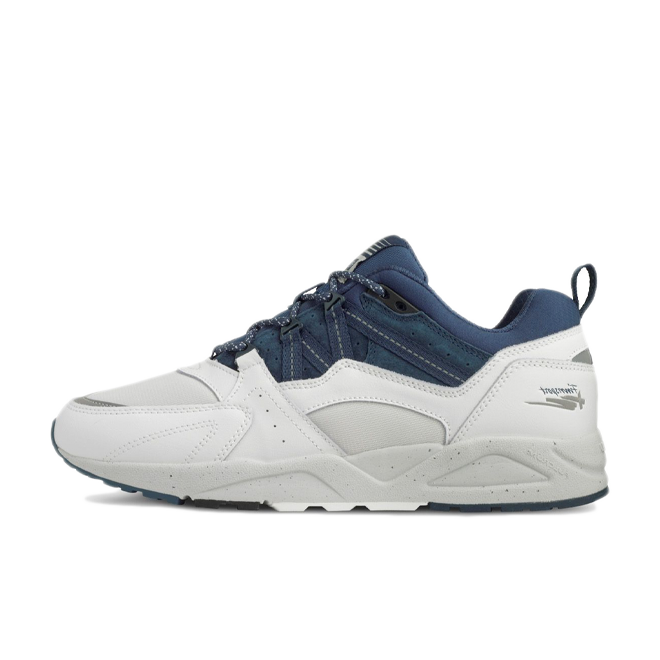 Karhu Legacy 96 Hockey Pack 2

We continue with the second sneaker from the pack, the Legacy 96, which is a bit more colourful. The colour palette is grey, white, green and orange. Again the base is made of knit. The toe area and the heel are made of grey suede, while white leather is used on the midfoot. The orange colour is found around the ankle.
Karhu Synchron Classic Hockey Pack 2
Last but not least, the Synchron Classic. On the toe cap there is leather. On the mudguard and the heel there are cinnamon-coloured suede panels. Furthermore there is dark blue suede and grey leather on the midfoot. Additionally there is Karhu branding on the tongue, the metatarsus and the heel.