The Finnish Brand Karhu is releasing a new pack of sneakers on 26 February 2021. This pack includes the Fusion 2.0 and Aria 95 models which are known for their premium quality. Karhu started as a sports brand and focused on running shoes. In recent years, the lifestyle models have increased in popularity. Check out the latest Karhu models below!
Karhu Fusion 2.0
Karhu has designed two new colorways for the Fusion 2.0. The first colorway is called 'Desert Sage', which is not surprising: the upper has a green sage colour. A warm grey tone is also used on the lower part of the upper. To get a fresh look, the sole is made white and orange accents are used.
For the other colourway, 'Walnut', more shades of brown have been used. The brown edge above the sole has been given a deep brown colour. To lighten up the shoe, light pink and white colours have been used. There is also a cheerful fuchsia pink colour on the small details of the sneaker.
Karhu Aria 95
The second model to be released is the Aria 95. One of the colorways is the 'Rainy Day', the shoe has been given a dark blue heel. The rest of the shoe has been kept quite light by using beige and brown shades. This design also contains playful colourful accents. A bright orange colour can be seen on the side, sole and tongue.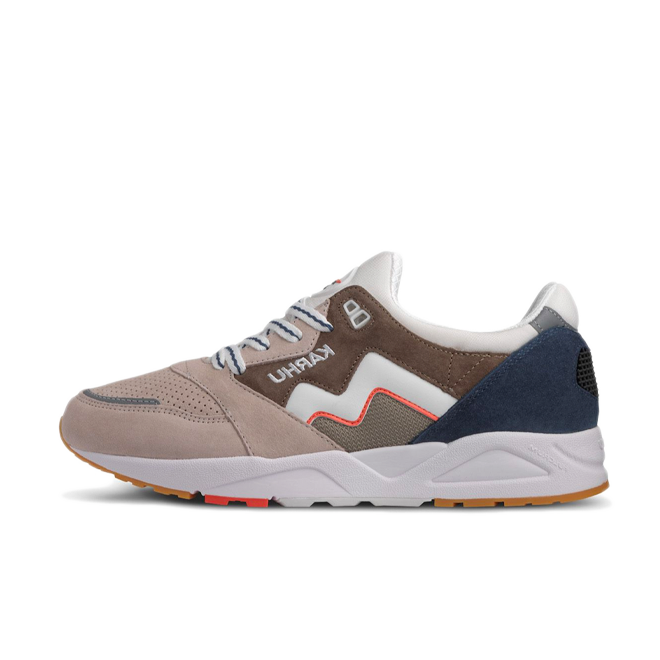 The second colourway to be released on the Aria 95 model is the 'Vetiver'. The sneakers have been given a greyish heel and toe cap. This way, the coloured midsection comes to the fore. Furthermore, the sole is white again, and this time also the upper part of the shoe.
Have you become a real Karhu fan and can't wait for these new releases? Then keep an eye on the Sneakerjagers Release Calendar for all sales points. The four designs will be available on 26 February 2021!