How long have we been waiting for this? And finally it's here! The Ben & Jerry's x Nike SB Dunk Low 'Chunky Dunky' comes and looks even better than in our fantasy. On May 23, 2020 at 9:00 am the sales start is! It will be available for €100. In advance there are already some raffles you can participate in. Stay tuned!
The Ben & Jerry's x Nike SB Dunk Low 'Chunky Dunky'
Everyone knows and loves the ice cream from Ben & Jerry's! There are varieties like 'Cookie Dough', 'Peanut Butter Cup' or 'Strawberry Cheesecake'. But for the Ben & Jerry's x Nike SB Dunk Low 'Chunky Dunky' they took another variety as inspiration. The ice cream variety - 'Chunky Monkey' - consists of banana ice cream, fudge and walnuts. A heavenly delicious combination.
The complete design of the sneaker is based on the Ben & Jerry's sundae. The sole is in grass green and white, creating a calm base. The upper has many individual elements. The lowest layer is made of leather and is light blue like the sky. On the side there are even two shades of green printed on the hills where the cows usually graze. Of course we also find these in the design. The overlay has a cowspot look and even fur like real cows. This gives the whole shoe a really cool touch.
As a cherry on top we have the yellow Swoosh on the side of the sneakers. From him the ice flows down. And the yellow color reminds us of the banana ice cream that served as inspiration. Really tasty!
To put the finishing touches on it all, we found the lining in 'Tie Dye' optic in different colors inside. On the heel and on the insoles we find the Nike logo in the 'Chunky Typo' of Ben & Jerry's. Here we have some cool photos for you! Click on the button to see a list of all retailers who sell the shoe.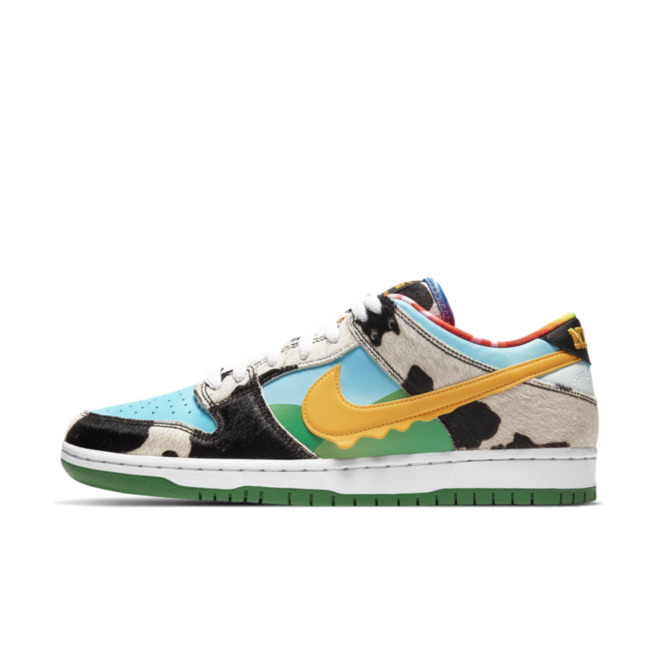 What's more?
We wish all of you who will try it a lot of luck and hope that you can get your new dream sneaker. And to give everyone an extra incentive: It was finally shown in what kind of box the sneakers come in and you just can't miss it!
If you always want to stay up to date about new sneakers and raffles, then have a look at our Release Calendar and our Newsblog, which always have all the important release info for you.