Custom is the trend right now, so why not combine your creativity with your love of sneakers? With a little paint and paitence, you can create a custom Air Force 1 and let your individuality shine!
Step by step: Custom Air Force 1
Pretty obviously, you first need a pair of white (or black if you prefer) Air Force 1s, like these!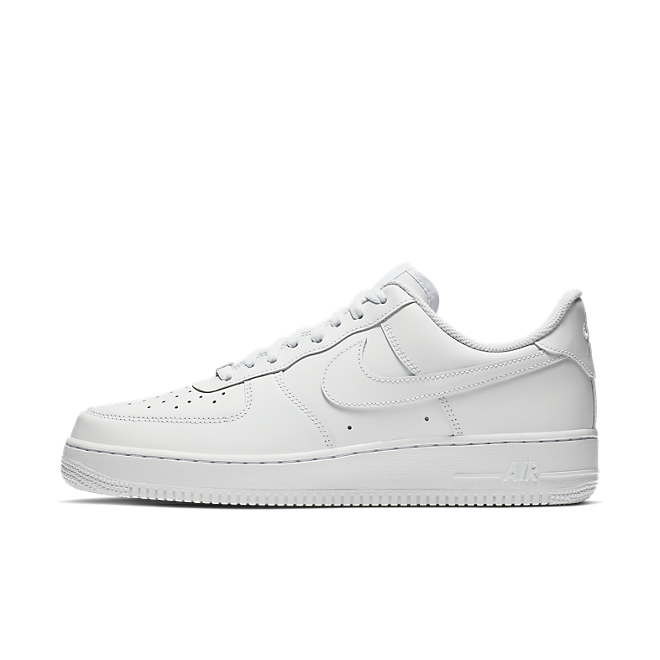 While you're waiting for the delivery, you can set up a little studio or at least a workspace. These are the materials you need to create your own custom Air Force 1!
Acetone (Small tip: Any nail polish remover that contains acetone is also suitable here.)
Cotton Pads
Tape (Painter's tape, vinyl tape, or whatever you have at home.)
Knife/Blade
Acrylic paint for leather
Matte Acrylic Finisher
How to design your AF1 yourself
First, take the laces out of your kicks. You then need to use the acetone to deglaze the leather of your sneakers. This basically just removes the factory finish from the leather uppers. This step is extremely important and must not be skipped under any circumstances. You want your designs to last longer than a rain shower. So be generous with the acetone! If you do it right, your fingertips will end up a little white from the finish of the shoes.
The second step is to mask off the corners, or all that you don't want to paint, as you would when whitewashing (painting) a room. If you have a very calm and accurate brush stroke, you can skip this step. The same applies if you just want to colour everything. Press the tape firmly to the ends of your 'drawing area', for example the Swoosh. Once you have done this carefully, take the blade of your choice.
Now it gets tricky! You want to cut the tape along the lines (of the swoosh's), but of course you don't want to damage the upper… So be careful and leave yourself enough time to work accurately. Bonus tip: If you don't want to paint your sole and save tape, just use a piece of kitchen paper or newspaper!
Get to the pots! After your idea for the shoe, choose your colour palette of acrylic paint for leather and just go for it. Keep in my mind: thin layers of paint give the best result. Put your favourite music and let the painting begin.
Let the shoes dry overnight. Then you can first use the matte acrylic finisher before you remove the tape and your Custom Air Force 1 can shine with you!
A little inspiration for you
Sometimes it's hard to come up with ideas, so it's good to see what other people are up to - what do you think? We can benefit from all the creativity on Instagram and get inspired. Check out some individual kicks below:
Nike By You: Air Force 1
If painting your new kicks is not really your thing, there's another option for custom AF1s. Nike lets you personalise many silhouettes, including the Air Force 1, and it's easy: Nike offers you a choice of materials, colours and details, you create your own custom design and in three to five weeks you get your custom Air Force 1 delivered to your door.
You start with a base, on top of which you can choose layers of leather, suede and ripstop. You can also choose between a high-top and low-top and a Jewel Swoosh bumper strap.
Nike Air Force Tear-Away Sneakers
The Tear-Away take things a step further, as these special kicks reveal yet another layer with special colours and materials underneath their first layer, which you literally 'tear away'. So cool!