Berlin had to wait a long time for it, but now the time has finally come, dear community: one of Europe's biggest sneaker festivals - Crepe City - is coming to Berlin on Sunday, 13 November 2022. The event will take place at the Festsaal in Kreuzberg. You are welcome at the venue from 12:00 to 18:00, unless you have early access, in which case you can already enter the festival at 11:00. 
More than 100 vendors will be exhibiting the rarest and most sought-after kicks. During the day there will be talk shows, various events and specials, and of course you can enjoy street food, good drinks and live music.
Read more about the event here or get your tickets directly via the link below!
Crepe City
In 2009, the first edition of Crepe City took place in London. Since then, the festival has become one of the biggest sneaker events in Europe. Bringing together lovers, collectors and retailers of sneakers and streetwear, Crepe City is the place for everyone who shares the same passion: the love of sneakers.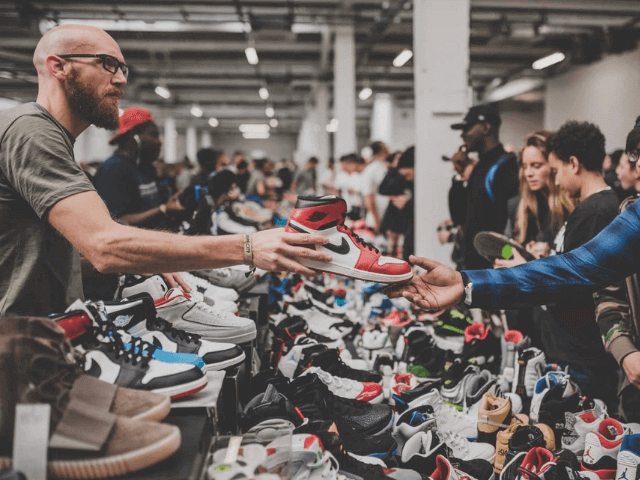 If you're looking for exceptional kicks, you've come to the right place. The pairs on offer at Crepe City are limited editions and special productions that are among the most sought-after shoes in the world. You'll find all the big brands like Nike, Jordan and Yeezy at the event. Get an impression of Crepe City below!
Crepe City Berlin
What can you expect from Crepe City Berlin? One thing is for sure: a lot of coveted and hyped sneakers and streetwear! Resellers from all over Europe will also be attending the event, with special guests from the UK! They will be offering the most coveted silhouettes such as Dunks, Air Jordan 1 and Air Jordan 4, New Balance 550 and 2002R, but Yeezys are not to be missed either. Plus designs from names like Travis Scott, Off White, Aime Leon Dore and Sacai.
In addition to browsing among the kicks, you can once again dance to the music of various DJs who will be spinning during the event, and there will be several talk shows to get in touch with the community. But that's not all! You can also take part in various games and giveaways organised by StockX.
Last but not least, there are the most delicious street food stalls to rest for a while so you can continue your search. Many streetwear products, cleaning stands and merchandise as well as sneaker accessories await you - as well as much more!
Tickets
Crepe City will take place in Berlin on 13 November 2022. Tickets for the festival are still available. There are two different tickets, one with early admission at 11 a.m., which costs 15.00 €, and one for admission from 12 p.m., which costs 10.00 €. The event ends at 6 pm and unfortunately it's back to waiting for the next event after that.
As a partner of Crepe City, we will also be coming up with something special. So be sure to download the Sneakerjagers app to stay up to date, because you don't want to miss it! Shortly before the event, you'll find more information about the event in our Sneaker News.
Will we see you on 13 November at the Festsaal in Kreuzberg, dear community?