A collaboration we didn't know we needed. The Puma Suede in collaboration with Atmos and Staple was teased on Instagram. The reactions consist almost exclusively of fire emojis and hearts, in our opinion rightly so. Can we expect the Puma Suede x Atmos x Staple soon?
Of course we see the classic Staple Pigeon back on the heel of the sneaker. Opposite is a black coloured crow, which immediately explains the name of the sneaker - 'Pigeon & Crow'. In the Instagram post of Hirofumi Kojima, the director of Atmos, he mentions that we can expect the sneaker soon!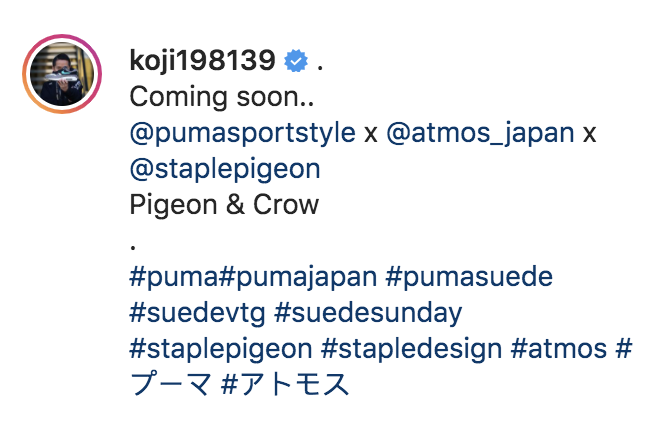 Staple Pigeon was founded by Jeff Staple, who has been working hard for his brand since 1997. Staple can be recognised by the bird logo, which can also be seen on this Puma sneaker. The brand has already had several collaborations. For example, the legendary Nike SB Dunk, which caused a lot of fuss at the time. Even riots in the streets! The brand has also seen a collaboration with Atmos before, which resulted in a New Balance X-Racer.
Puma Suede x Atmos x Staple 'Pigeon & Crow'
The Puma Suede is a true icon and has seen many collaborations. Now it is the turn of Atmos and Staple to give the sneaker a makeover. They have done this by adding the Pigeon & Crow on the heel. We also see a light upper, made of suede of course, with black and grey details.
The Puma logo on the side of the sneaker also seems to have an effect. This is often also made of suede, but now it has a leather look. The shoe gets more colour from the red lining. The Instagram post is the first and only picture where the sneaker can be seen. We are looking forward to the official photos, so we can have a good look at the kicks!
We also hope to get a release date soon, though that won't be long. We'll keep you posted on releases through our release calendar, blogs and Instagram page!