Modedesignerin Melody Ehsani und die Jordan Brand wollen den Basketball in eine neue Generation bringen! Der Melody Ehsani x Air Jordan Women 'Bred' erscheint morgen, den 19.März 2020 um 09:00 Uhr. Ihr könnt ihn ab 149€ bei ausgewählten Retailern erhalten. Wer diese Retailer sind, erfahrt ihr, wenn ihr auf den Button klickt. Kommen wir aber zunächst einmal zu den Details und ganz vielen Bildern!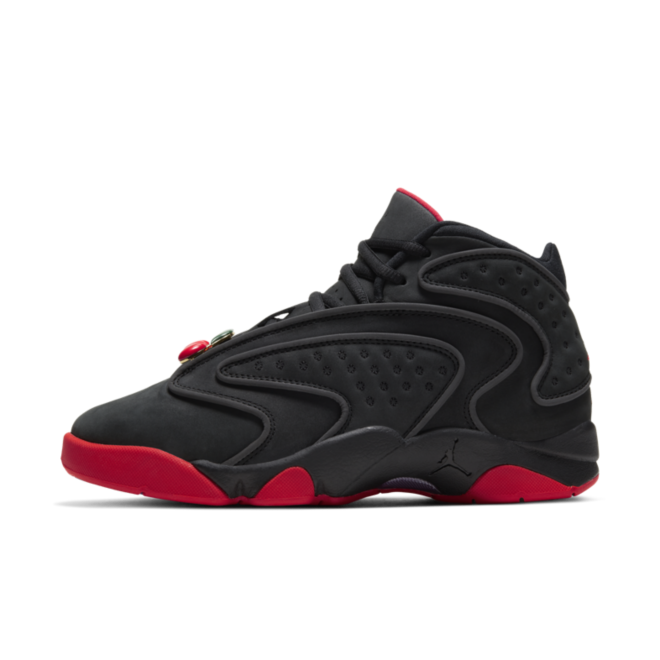 Der Schuh kommt in der Silhouette des ersten Women's Air Jordan OG: Wir bekommen ein schwarzes Upper, Highlights in der klassischen Infrared Farbe, reflektierende Details und obendrein ein Kirschemblem. Die Kirsche gilt als Symbol der Fülle und wird mit der Göttin der Fruchtbarkeit verbunden. Somit soll der Melody Ehsani x Air Jordan Women 'Bred' die Frauen auf und neben dem Court feiern! Weitere Detailbilder findet ihr übrigens weiter unten 🙂
"The legacy [of the Women's Air Jordan OG] speaks for itself. It was an exciting time in history with the inception of the WNBA and all the incredible women who were coming into the game. The shoe is really an emblem of this moment, a first in many regards."

Melody Ehsani
Wie ihr auf den Bildern sehen könnt, existiert eine ganze Kollektion zu dem Sneaker - ob diese auch in Deutschland verkauft wird, kann ich nicht sagen. Auf ihrer Website bietet Melody Ehsani sie jedoch an - dort ist der Sneaker übrigens schon ausverkauft! Also heißt es auch hier: Schnell sein!
Auf ihrem Instagram Kanal präsentiert Melody Ehsani ganz stolz ihren neuen Kollabo-Sneaker. Denn sie verbindet damit eine ganze Geschichte! Dass dahinter also viel mehr steckt, als nur ein Schuh, könnt ihr in ihrem nächsten Post lesen:
Melody Ehsani x Air Jordan Women 'Bred'
Checkt hier also die Detailbilder ab! Und merkt euch: Morgen, den 19. März 2020 um 09:00 Uhr wird der Melody Ehsani x Air Jordan Women 'Bred' released! Stellt euch lieber einen Release-Alert, denn der Sneaker wird schnell vergriffen sein. Zu dem Alert kommt ihr, wenn ihr auf den Button klickt. Dann schon einmal viel Spaß und Erfolg 🙂