Hey girls! One of the most popular models on the market nowadays is the Nike Air Max 95. And even though we all love them, they are still a bit on the pricier side compared to its more affordable brother models. And I mean, with good reason. This revolutionary little shoe packs a lot of punch, and can last a long long time. Moreover, the walking quality is superb.
Yet, that doesn't mean we always want to spend the €160-180 price tag on it. And that's why I have decided to sort out the best five pairs of Nike Air Max 95 WMNS on the market right now, available below retail price. But before I present the five pairs, I first want to shine a little light on the history of these innovative beauties.
A little history
During the early '90s, Nike Basketball was the main leader in the sneaker market. The popularity of basketball shoes had gained drag well ahead of runners. The revolutionary Air Max 95 was positioned by virtue of guiding the public's attention back to the performance running category.
Sergio Lorenzo, who created the AM95, shared that Tinker Hatfield always asked the question: 'Okay so that's a great design, but what's your story?'. And apparently Lorenzo had one ready. He was inside the Nike headquarters' one day, looking across the lake out into the trees while rain poured outside. He imagined the process of rain eroding the earth, and had the idea of a perfect product, one that was unearthed by erosion. After that, he took further influences from the human's body anatomy, in which the human muscles and vertebrae were added to the design.
The final results was a shoe that had an upper with layered panels resembling flesh and muscle fibers. The nylon eyelets were fashioned after ribs, with the midsole taking after the human spine. Lastly, the gradient was meant to resemble the geographical striations of eroded rock walls.
And so in 1995, the Nike Air Max 95 was born.
Nike Wmns Air Max 95 | DJ1495 100
This white / melon colorway is the perfect base for a happy and joyful summer. The white base gives the shoe versatility when it comes to where, when and how to wear them. The soft melon tones on the other hand make these sneakers give off pure good vibes! Chek out all retailers here, with asphaltgold currently offering the best price: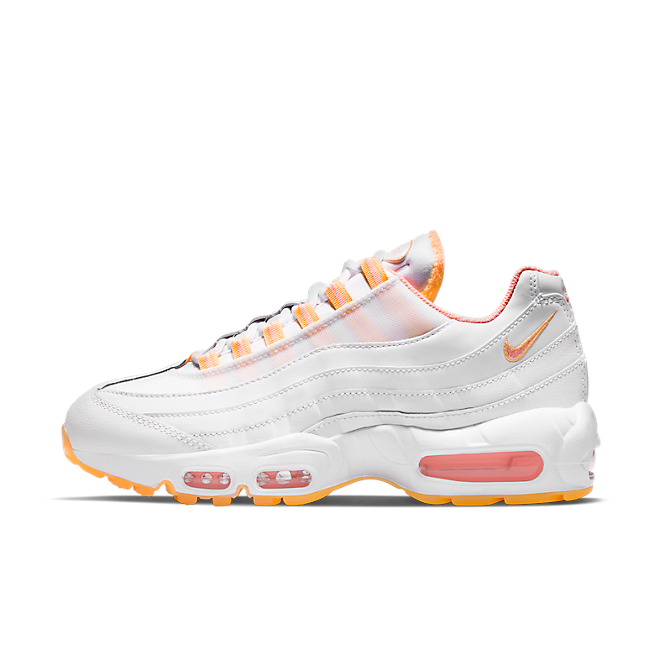 Nike Air Max 95 'Melon Gradient' | CZ5659-600
Want to bring out those happy melon colours ever more? Go for the Nike AM 95 'Melon Gradient'. This pair reminds me of ice creams, warm days, and of course, melons. Check out all shops here: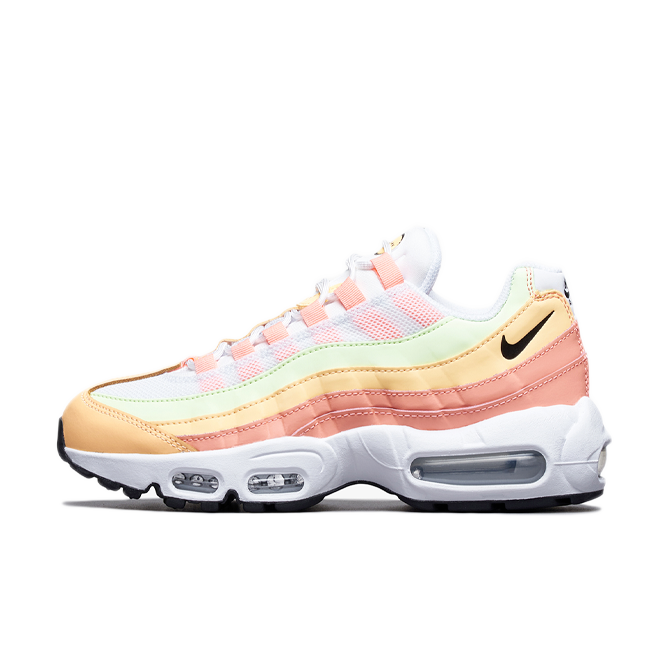 Nike Air Max 95 'Barely Rose' | CI3710-600
This 'Barely Rose' pair is made out of different layers of white, pink and grey colours. Great for a day of walking or just chilling. Have a look at all retailers here: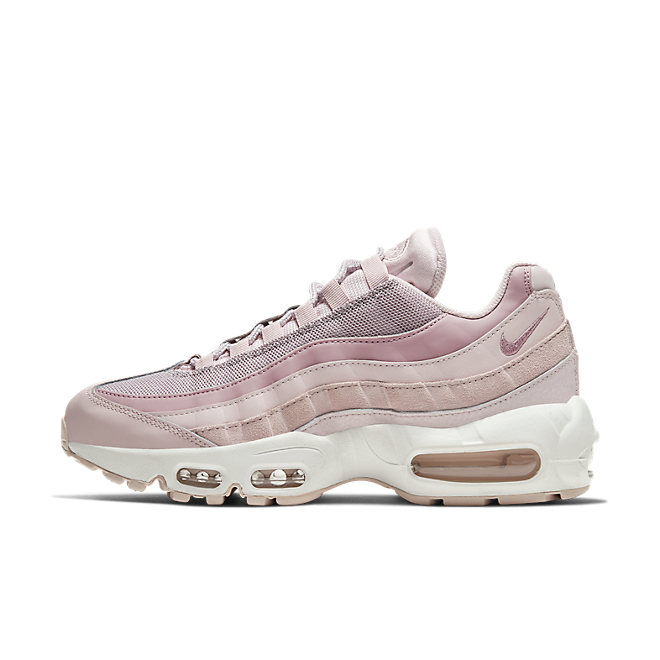 Nike WMNS Air Max 95 'Coconut Milk' | DD6622-100
Some of you have already noticed, but Nike has been loving 'Coconut Milk' colorways lately, whether in the Air Force 1 or the Nike AM 95 models. But this AM95 'Coconut Milk' is an especially nice take on it!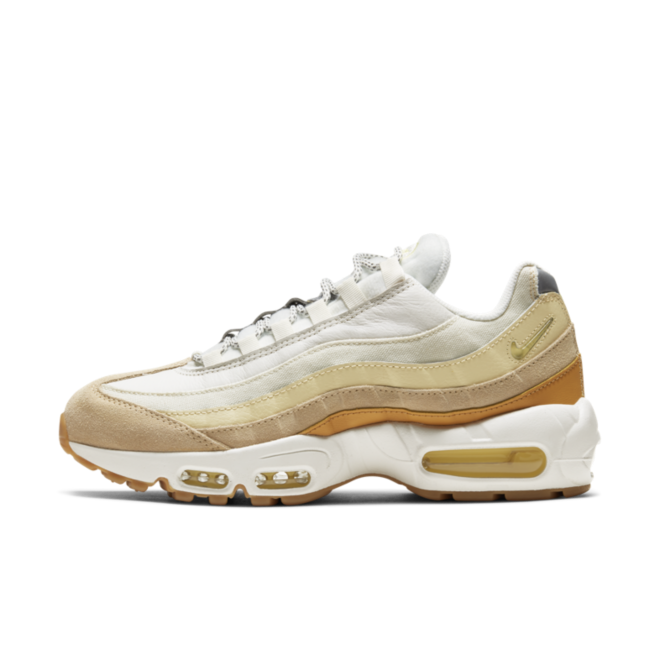 Nike Air Max 95 | CV8828-100
Lastly, I found this white/rosa model on sale, giving us the best of both worlds. Sweet soft tones, combined with a clean white base. Whereas, the added black details bring the AM 95 back to it's sporty roots. Get these here: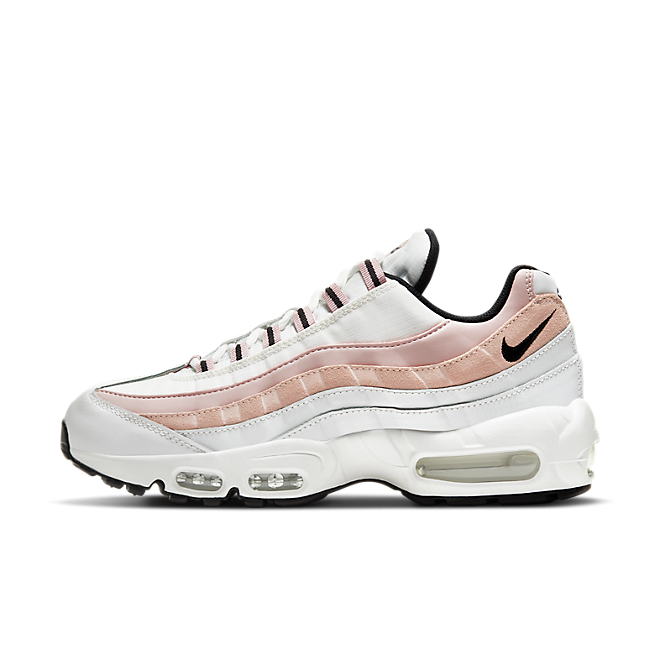 Upcoming releases
These two new Air Max 95 models, and more, will be releasing soon. To find out more about these gorgeous shoes, have a look at our blog: 'Pop the corks for the Nike Plant Pack'.
That's it for this time guys! I hope you enjoyed checking out these affordable pairs. If you want to read more of our sneaker news on our website, go here. In order to read better on your mobile phone, consider getting our Sneakerjagers App, downloadable here!