January is a month where we have already seen some new colorways released on the Nike Dunk model, but there will be a few more in the coming month. Also, rumours and photos of new colorways keep popping up. Now, a new colourful 'Free 99' colorway has surfaced on the Dunk Low silhouette. A total of two variants will appear, a black colorway and a white colorway.
Of all the Nike sneakers, the Dunk silhouette is one of the most distinctive. In 1985, we saw the debut of the Dunk model, together with the Air Jordan 1. In all that time, the sneaker evolved from a basketball shoe to a skate shoe and nowadays the model is an integral part of the streetwear world. Meanwhile, the silhouette is over thirty years old and the current generation embraces the rich history in their own way.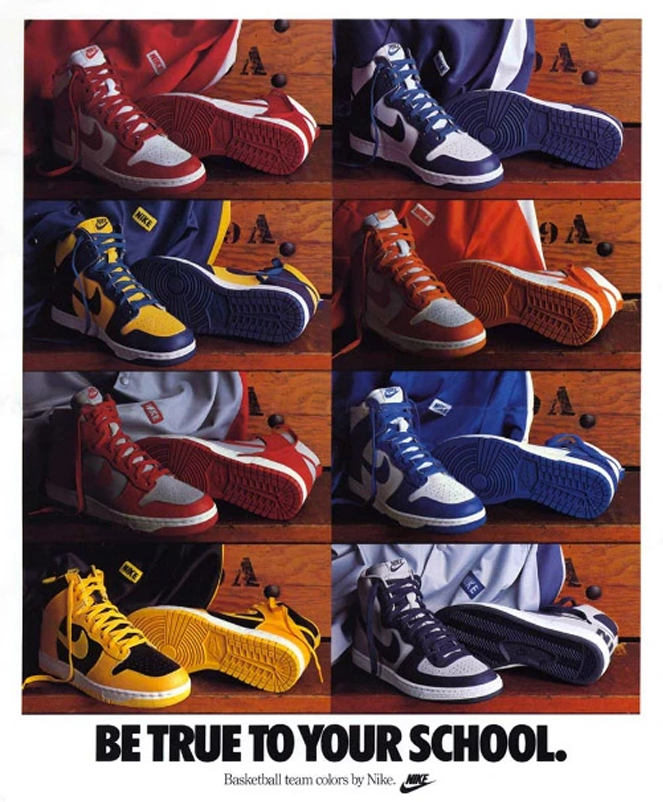 The history of the Dunk model originated on basketball courts and universities. As basketball got so much attention because of Michael Jordan, the college basketball scene also came into the spotlight. To create even more attention for this, Nike came up with the Dunk silhouette. A sneaker which was specifically designed for the college basketball teams which had a contract with Nike. Thus was born the 'Be True To Your School' collection. Each team received Dunks in colorways of their own team.
Nike Dunk Low 'Free 99'
Earlier in this blog, we mentioned that there will be two colorways in total, a black and a white colorway. Unfortunately, no photos of the former have surfaced yet, so we will only take a look at the white colorway in this blog. As soon as you focus on one of the shoes, you'll think it's a pretty simple, colourful silhouette, but appearances can be deceiving. If you hold both shoes next to each other, you will see that each panel is processed in a different colour. Nike has chosen to use a maximum of six different colours.
The base is composed of a white leather, brown Swooshes and a gum outsole. Next, the colourful overlays are incorporated and divided into the colours of aqua blue, bright yellow, light green and red. Once you take a look at the inside of the sneaker, you'll see a trio of 'FREE.99' stickers on the insole. This completes the look.
Unfortunately, there is no release date yet for this colourful Nike Dunk Low 'Free 99'. We expect the sneaker to have a price tag of €100. Keep an eye on the Sneakerjagers release calendar daily for more updates and until then, enjoy the first pictures of the colorway below.
---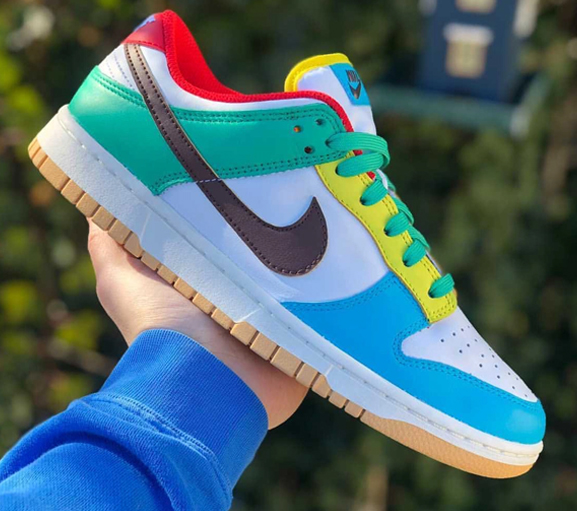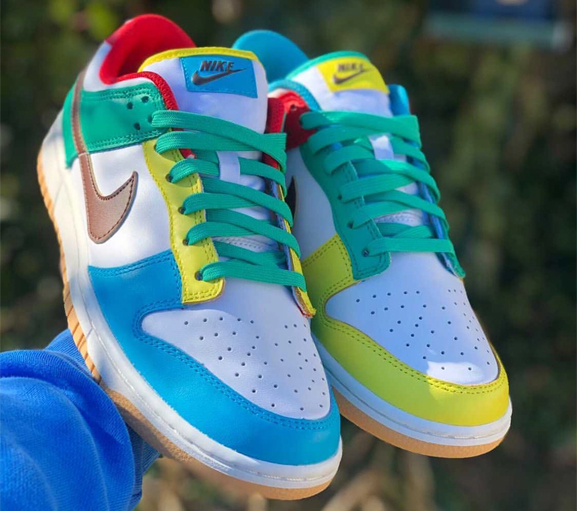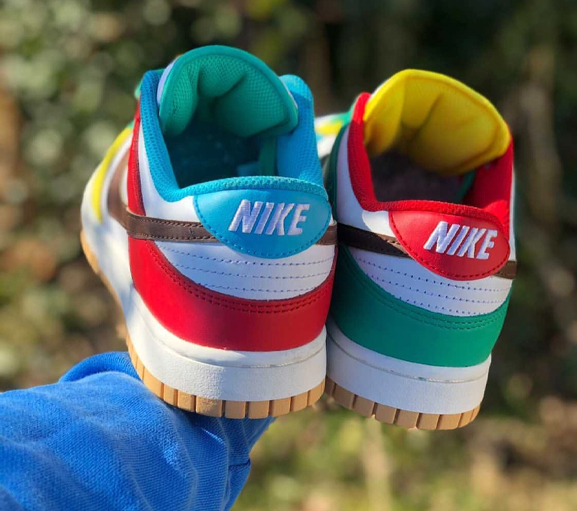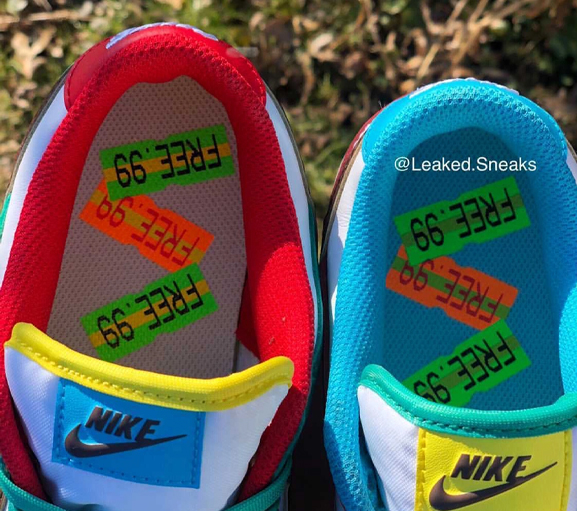 Images by: @leaked.sneaks
---