Hi friends, today I'm going to introduce you to everything you need to know about the Nike Dunk Curry. We are already looking at the first pictures of the shoe and are looking forward to little details. It is very likely that the release date will be 28 January 2021 at 9:00 am. The retail price will be, as usual for Dunks, 100€. Let's start with the first picture of the Nike Dunk Low Medium Curry.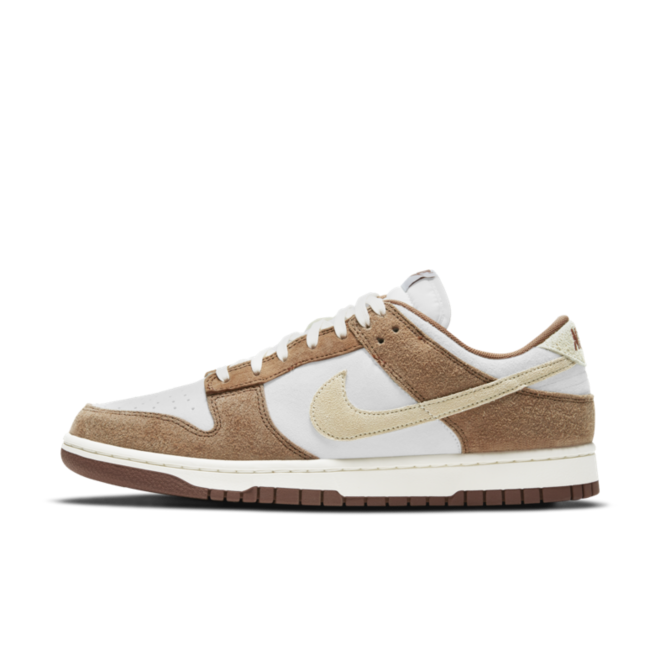 Cool first impression
After all the Nike Dunk High, Dunk High Premium and Nike SB Dunk releases in January, it's easy to get fed up. Nevertheless, the Nike Dunk Low Medium convinced me straight away. The shoe looks simple, but still brings some colour into your outfit. The base is not a classic white, but a beige colour. To be precise, it is a Sail Medium Curry Fossil colourway.
The overlays come in a curry shade and otherwise the two different beige shades run along the shoe. The Swoosh is more of an off white look than the cream white. The upper material is also special, as it is made entirely of suede. The rubber sole has a curry look and contrasts with the cream midsole. The prm medium curry will sure be a really successful shoe.
The colour of the shoe is somewhat reminiscent of the Nike Air Max 90 Bacon. Although the classic red is missing, they both have the common feature of being named after food. According to rumours, the Air Max Bacon will be released again in 2021 in a similar or identical fashion. We will keep you up to date with our sneaker news!
Just like the Dunks, there have always been crazy collaborations and experiments with the Nike Air Max. If you want, you can also check out our Facebook account to keep up with the best sales and restocks.
Short review
There are few shoes that have shaped the sneaker cult as much as the Nike Dunks. Originally designed as a basketball shoe, the shoe became famous thanks to college basketball and their rivalry in the 80s. Nike hit the mark with the campaign 'Be true to your school'. Much later, the hype of the Nike SB Dunks and the skaters came into the scene, which celebrated an absolute peak in the 2000s.
If you are interested in how the shoe became such an icon, then take a look here. We wrote a whole blog post about the history of the Nike Dunks and work up the best highlights of the cult shoe there. Have fun!