What's Up Community, it's time for one of the most hyped and limited sneaker releases of the year. The Amsterdam-based denim company collaborates with Nike, for one of the most anticipated Air Max releases of the year. First up the most important release infos, then the details of the shoe.
Release Infos
The Denham x Air Max is scheduled for a release on Friday the 18th of September 2020. The shoe is extremely exclusive, as the production was limited to 6800 pairs. You can find the already open registration on denhamjeansmaker.com. There are no other retailers known yet, if this changes, the button down here, has an updated list. ⬇️⬇️⬇️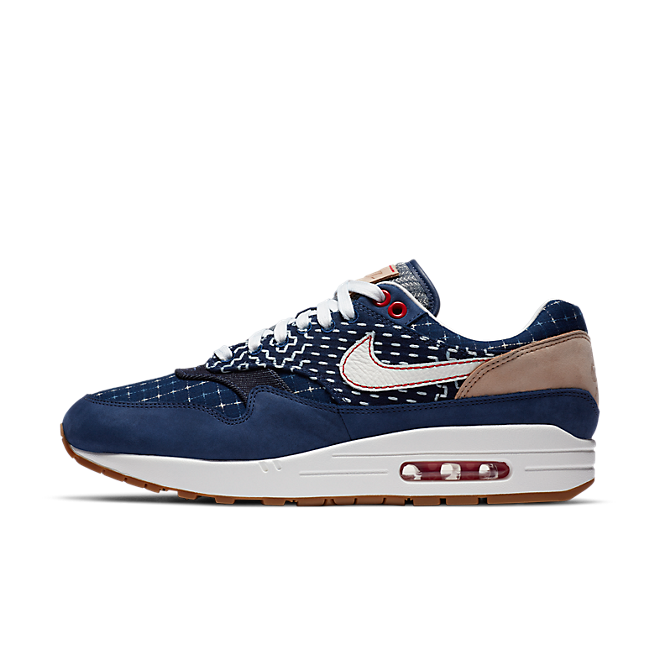 Denham
You don't know Denham? Lets change that ASAP. Denham is a brand based in Amsterdam, that produces denim products. It starts with classic jeans, jackets and now even sneakers, really everything a denim lover's heart desires.
However, the name of the company has nothing to do with the term denim, but is simply the name of the British Denham founder Mr. Denham.
Der Denham x Air Max 1
Now to the sneaker itself. The shoe is limited to just 6800 pieces, which is less than the Jordan x Dior, so you can imagine how hard it will be to get the Kickz.
The shoe itself combines the iconic silhouette of the Nike Air Max 1 with Japanese denim art. You can see that the Air Max collaboration will have a denim look. According to Denham himself, the Air Max collaboration uses his own craftsmanship and one of the most beautiful Nike silhouettes to combine the best of both brands. The upper of the Denham Air Max 1 features Kakuju Tsunagi Sahiko stitches, indigo plaid denim and indigo blue herringbone pattern, made by Nihon Menpu Japan with light brown nubuck and indigo blue suede
I can't tell you exactly what this means because I have absolutely no idea about the art of denim in Japan. But for sure I can tell you that it looks mega and the quality should be outstanding. Besides this fancy sounding explanation of the upper there is another small detail that makes the shoe special. The Denham slogan 'The Truth is in the Details' is written on the inside of the shoe. Just like the signature of the Denham founder. Beside these details, there are some smaller, even cooler details on the shoe, but see for yourself with the official photos.
Oh by the way, before you get the photos…the Air Max 1 is only one of four Denham x Nike releases to find out when the other three release check our release calendar. Details about the shoes will be available in our Updates and Sneaker News… but now to the photos, enjoy!