What's up Community, it's been almost six years since there was a Fragment x Air Jordan Collab. Back than Fragment Design and Jordan released the beautiful Fragment x Air Jordan 1, which now has a ridiculous resell price to its name. In the meantime, there have been many Nike x Fragment Collabs, but this fall there's finally a new Air Jordan x Fragment designs collaboration: The Fragment x Air Jordan 3, plus a mega nice clothing collection 😍😍😍!
The Fragment x Air Jordan 3 is scheduled for release on September 17th, 2020 at 9:00 am on Nike. The shoe will also be available at other selected stores. For an always up-to-date list of all stores check the button down below ⬇️⬇️⬇️️!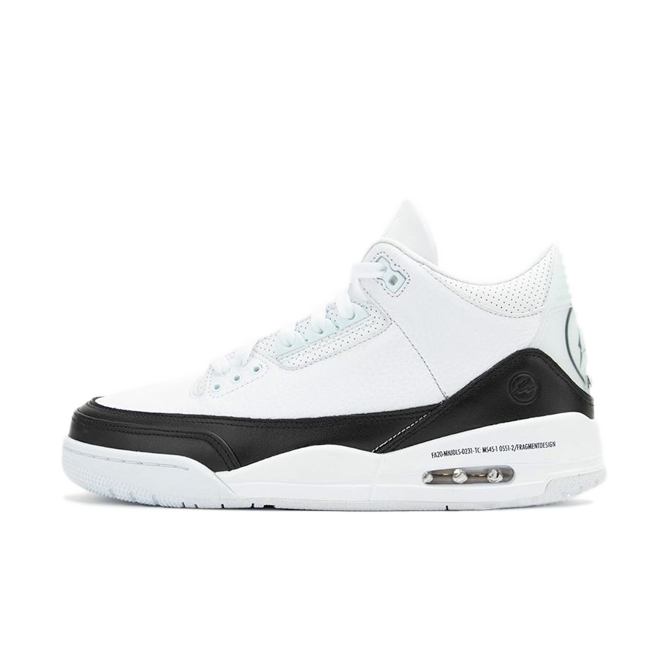 Is the Fragment x Air Jordan 3 better than the Jordan 1 'Fragment' ?
Michael Jordan's first signature shoe, against the kicks that earned him his first MVP: Both Fragment Jordans are on iconic silhouettes, which you like more is a matter of opinion.
The Colorways are like the silhouette, both incredibly nice. The Jordan 1, which is now 6 years old, uses the Black Toe colour scheme, with the difference, that the red parts are now blue. The Fragment x Air Jordan 3 on the other hand is a completely unique design. The elephant print, which is usually used on the Jordan 3, is missing.
Instead, there is a black stripe above the Air Bubble that runs all the way across the shoe. The rest of the upper is completely white. There are only three fragment designs on the Jordan. Directly above the Air Bubble, but still under the black stripe, is a small lettering, in which the name Fragment appears. In addition, the logo is also stamped into the black area. However the highlight of the Jordan is the heel. The Fragment logo with the two flashes ⚡️⚡️ can be seen on both heels! In front of the logo is a transparent plastic jumpman, so the whole thing looks much better.
Detailed Pictures
Here you can see the lettering again in detail! Nice! Inside the shoe are some logos of the japanese brand.
Like its predecessor, Hiroshi Fujiwara's fragment design really did everything right with the new Fragment Jordan! Which style looks nicer in the end? Old or new? Impossible to say. In any case, after the Sacai Nike LDV Waffle Collab, the new Jordan 3 is the next top collaboration with a Japanese brand.
In addition to the Fragment x Air Jordan 3 there will be a Fragment x Air Jordan 34 this year. Stay tuned for what else the two have planned for us.
For all upcoming releases, like this Fragment Jordan, check out our release calendar and our Blogs for insights on the releases.