What's up Community, have you all ever heard of 'Doraemon'? I must admit I didn't know the manga character before this sneaker. Apparently 'Doraemon' is about as well known in Japan, as Mickey Mouse is here. The series has been around since 1970 and to celebrate it's 50th birthday Nike doesn't have an Air Jordan but a Nike SB Dunk High 'Doraemon' as a present. For those of you, who already know the shoe, you can now find all the release info. After that, for those of you who want to know more, there will be some background information about the shoe.
Release Infos
According to Nike, the SB Dunk High 'Doraemon' will drop at selected orange label skateshops on the release date September 9, 2020 at 9:00 a.m. The Reatil price is 110€.
An always up-to-date list of all retailers and raffles can be found here ⬇️⬇️⬇️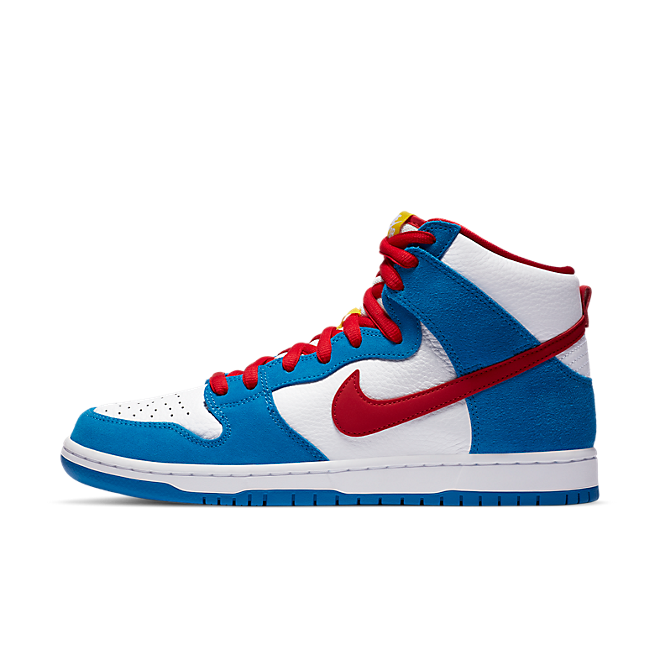 Doraemon

As already mentioned, Doraemon is an animated Japanese manga/anime series, whose main character also has the same name. Doraemon is a robot cat from the future, which has to help another character from the series in the present, so that everything stays the way it should be in the future. As you can probably imagine, the series is super successful in Japan and is still on TV today.
The Design
For the Nike SB Dunk High 'Doraemon' the color blocking of the manga figure was used one to one.

The red laces stands for the red collar of the robot cat. The yellow elements, like the lace locks on the laces and tongue, for the bell the cat always wore on his collar. The white leather is supposed to be the belly of the cat and just like in the manga, the white part is surrounded by a blue one. This blue part is a suede overlay, which is supposed to be the skin of the cat. Then follows the white midsole, which stands for the face of the cat. The midsole is surrounded by blue, just like it is in the design of that cat. This time, by the blue rubber outsole. As you can see, Nike took the robot cat completely as a model and turned it into an awesome Dunk High Colorway. 🔥🔥
After all that explaining, here are the official pictures of Nike, so you can get a better feel of the shoe.
All other sneaker releases can be found in our release calendar. In addition to that you can check out our Blog's and Updates for daily sneaker news.