Ik zal maar meteen met de deur in huis vallen… Hallo allemaal, Ik ben Gwen en ik ben verslaafd.
Ah dat lucht op!
Naast een sneaker addict ben ik ook nog eens een sneaker journalist! Via mijn blog www.kickoutofthebox.com vertel ik mijn eigen sneakerverhalen en sneakerliefde en die van velen andere sneakerheads van over de hele wereld.
Sneakerjagers is ook een groot voorstander van het delen van sneakerliefde, dus vanaf nu kunnen jullie de komende weken weer elke vrijdag genieten van één van mijn blogposts op sneakerjagers.nl.
Wij Nederlanders zijn een heel werelds volk, dus dat de posts in het Engels zijn is vast geen probleem! Mocht het toch niet helemaal lukken is er een dikke vriend die je vast wel wil helpen… dan ga je gewoon voor quality time met mr. van Dalen.
Deze week staat in het teken van eigenheid. Jeremy Scott is voor mij het toonbeeld van eigenheid en creativiteit…
---
Okay so it's official…  My sneaker addiction got a new dimension. A few months ago I saw the Jeremy Scott documentary on Netflix, "Jeremy Scott The people's designer". I love how he respects the people around him, but doesn't lose sight of who he is and where he came from. I love the way he seems to just live his life his way. He doesn't follow hype, he doesn't wear what people expect him to wear. He simply does his own thing and is amazing at it!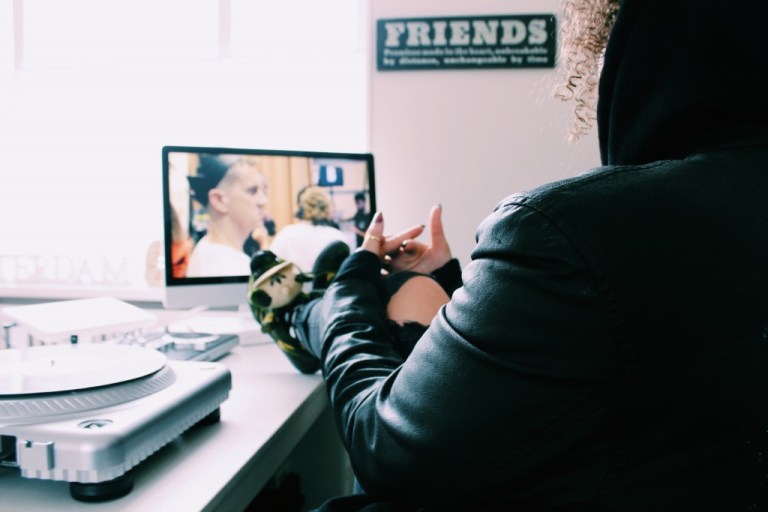 We live in a world where people expect a 31 year old woman to dress a certain way. I've always sucked at following protocol, so I had to get used to people staring at me and sometimes laughing at me behind my back. Ever since I was a child, I've been an outsider. I got used to being bullied, but I really did find myself through all of those rough patches. I don't feel the need to dress like every one else. I really don't need to fit in. I just need to be myself and being a mom, that's what I try to teach my girls.
I see myself as authentic and flawed and guess what I don't mind. I might be a perfectionist when it comes to the things I do, but I sure as hell ain't a perfectionist when it comes to who I am. Flaws build character in my opinion.
Okay so back to this new dimension of my addiction… some time ago I found myself disappointed in one of the decisions I've been making for years. I had continuously been passing on a specific type of kicks and the reason was a bit shameful to me… Gwen, the one who never cares about anyone's opinion when it comes to fashion and kicks, had been passing on sneakers because they were too "out there". I secretly wanted almost all of the kicks Jeremy Scott has designed for Adidas, but I never bought them because honestly I was too scared to rock 'em.
When I saw the Jeremy Scott documentary I felt a spark which turned into this full blown fire. I decided that the time had come to give in to this "guilty pleasure" and that's when this new dimension of my addiction started. Literally like a kid in a toy store I was browsing through eBay. I didn't know where to start and then these babies kinda came to me. I'm so insanely happy and I'm gonna rock them with all the pride I have in me. I won't care about all of the opinions. So there you have it… I finally reached another level on the aunthenticity-ladder. There are still so many more steps to go, but I'm sure all of my future Jeremy Scott pick ups will help me climb. (>‿◠)✌