Thursday, March 25 marks the release of the Sacai x Nike VaporWaffle 'Tan' and 'Dark Iris'. With their collaboration, the two companies have once again created a very cool silhouette, in multiple colorways.
The Birth of the VaporWaffle
The VaporWaffle is a combination of the 1983 Nike Air Zoom Pegasus and the Nike Vaporfly. In 1983, the Nike Pegasus was seen as the perfect running shoe. The sole contained an Air Unit to mimic the motion and speed of a fly.
The Nike Vaporfly is a much newer shoe from 2017. Because of the advanced technology contained in the Vaporfly, the sneaker has received a claim from World Athletics. Athletes who wore this silhouette would have an unfair advantage, as it could potentially be a form of technological doping.
The New Sacai x Nike Design
In addition to combining classic silhouettes, the 'tan' also uses classic colours to give the sneeaker a mindblowing look. The upper of the shoe is made of a nylon and supple suede overlays. The swooshes and heel pieces are finished with co-branding in navy brown tones.
In addition, the shoe has double laces and swooshes with a nice colour contrast. The midsoles and tongues are also double. On one tongue there is a Nike Sportswear graphic and on the other Sacai. The sneaker has a prominent lip at the back. Finally, an old-school black waffle outsole is used to complete the look. The VaporWaffle dark iris is made in the same style, but with the colours dark iris, campfire orange and white.
Release Information
On March 25 at 09:00 Sacai x Nike Vaporwaffle will go on sale from €180 via Nike. This latest design from Sacai founder Chitose Abe and Nike are a must have. The VaporWaffles are very thoughtful sneakers that combine style and comfort. The Tan and Dark Iris colorways are a pair not to be missed, so check them out here and set your reminder.
'TAN'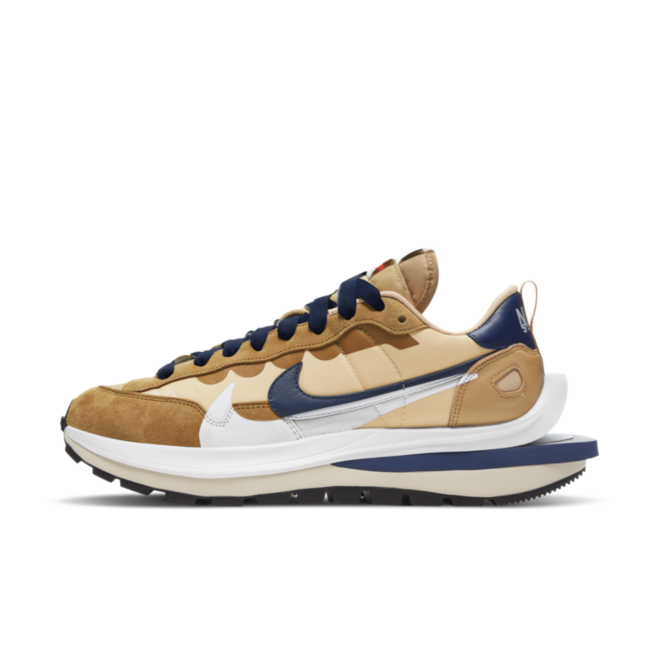 'DARK IRIS'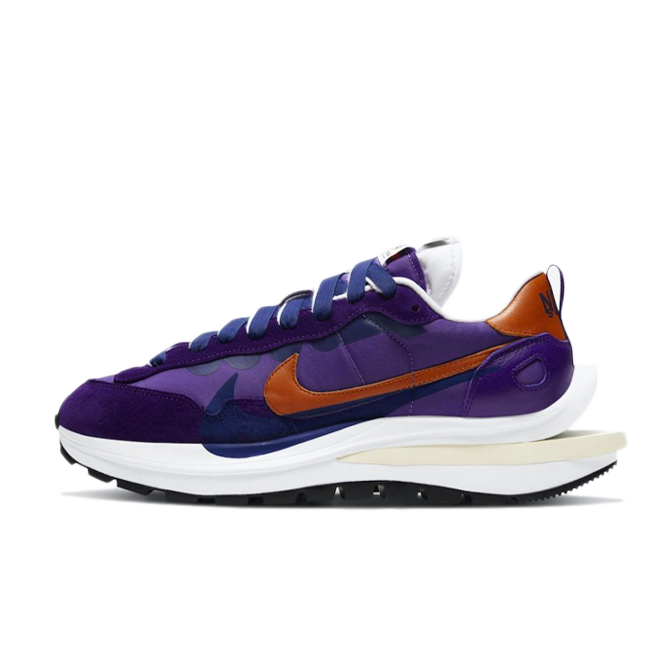 Don't want to miss these releases? Then don't forget to check our news page and release calendar for all updates.