We got what you want! The Nike Air Max Plus is a favourite among our sneakerjagers and that's why we're doing this special on the iconic Nike model. When you look at the countless designs, one thing stands out:
Many colorways look as if they were 'sent from above' and some other colour combos look as if they came straight 'from hell'. That's what this special is all about: Are you Nike Air Max Plus - Team Heaven or Team Hell?!
You're undecided and just want to check out the Nike Air Max Plus? Then here is the full selection…
---
Choose your Team
Team Heaven's character portraits are characterised by a rather reserved, but wise and clean role.
Team Hell, on the other hand, is more pushy, more self-confident, but also more courageous and loves "adrenaline kicks".
TEAM HEAVEN
quiet
classy
down-to-earth
relaxed
wise
TEAM HELL
cool as hell
courageous
open
self-confident
spirited
---
Nike Air Max Plus | History
The development of the Air Max Plus from the idea to the prototypes shows that it can radiate calmness, lightness and contemplation.
When Sean MC Dowell made the first sketch in 1997, he was lying on the beach and was inspired by the sunset and palm trees, which is reflected in the silhouette and colorways. At that moment, he was 'Team Heaven' for sure.
In addition, the Tuned Air technology naturally stands for lightness, especially when you consider that the shoe was originally designed for running.
But some of the first colorways also show that the Air Max Plus can also be really eye-catching and wild. For example, the Nike Air Max Plus 'Tiger' from 1998.
The spirited fade from bright orange to strong red-orange gives the sneaker real power and attention. Quasi 'from Hell'!
---
Nike Air Max Plus | Team Heaven
Nike Air Max Plus | Team Hell
---
It is the ultimate duel! But no matter which side you choose, you will be strong and special. Team Heaven gives you an 'understatement' and a clean apperance. Team Hell gives you the confidence and the possibility to combine your shoe with a simple outfit to make it an 'IT piece'.
This battle also fits perfectly with the upcoming Nike Air Max Plus releases that we are eagerly awaiting:
We expect the 'Persian' as early as 11 September 2021.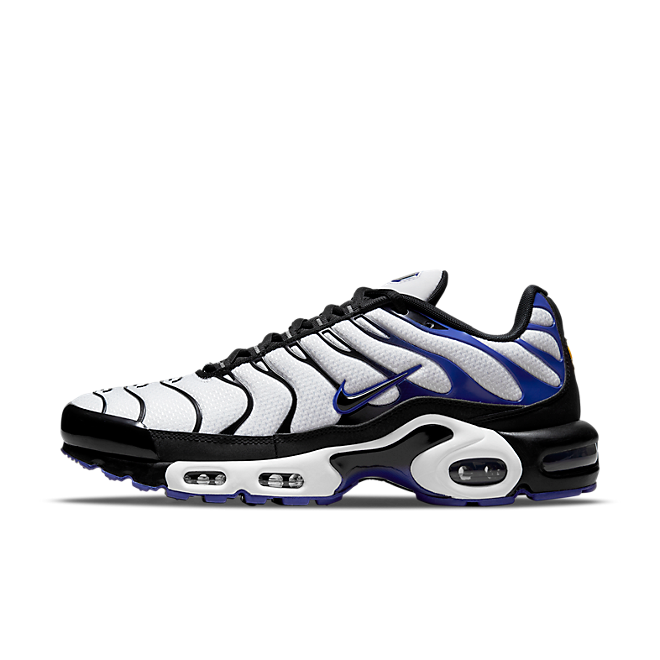 We still expect the 'Reverse Sunset' in 2021, but there is no further information on the release date yet.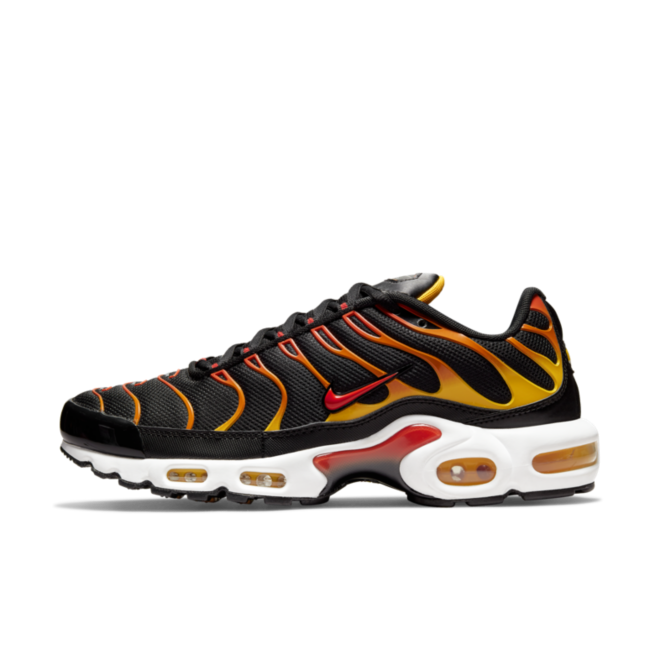 ---
In order not to miss the release of 'Persian' and 'Reverse Sunset', the representatives of the sky and the underworld strongly recommend downloading our app and checking out the release calendar regularly.
You are blessed, Sneakerjagers!
You are lit, Sneakerjagers!