[Update September 3rd, 2020] The release of the new Nike Air Force 1 'Black Tie-Dye' will unfortunately be delayed a little bit! As soon as a new release date is set, you'll find out right here and in our Sneaker News. If you want to have a look at some other Air Force models until then, take a look here in our sneaker collection under the keyword Air Force!
More infos about the new colorway can be found here:
What's up Community 👋! Right at the end of the summer, Nike is releasing a summery Air Force. After Nike already released the Jordan 1 Tie-Dye on June 11th, which was sold out immediately, Nike stays true to the Tie-Dye concept and now also releases the Nike Air Force 1 'Black Tie-Dye'.
The Nike Air For Tie-Dye was already released in Korea on July 1st, 2020. After we had to wait a little bit longer, the new Tie-Dye Air Force will be available for a retail price from 100€ up to 120€ at selected retailers. As well as in the Nike SNKRS (formerly SNEAKRS) app on September 4th, 2020 at 9 am. The button down here will give you an always up to date list of all retailers. ⬇️⬇️⬇️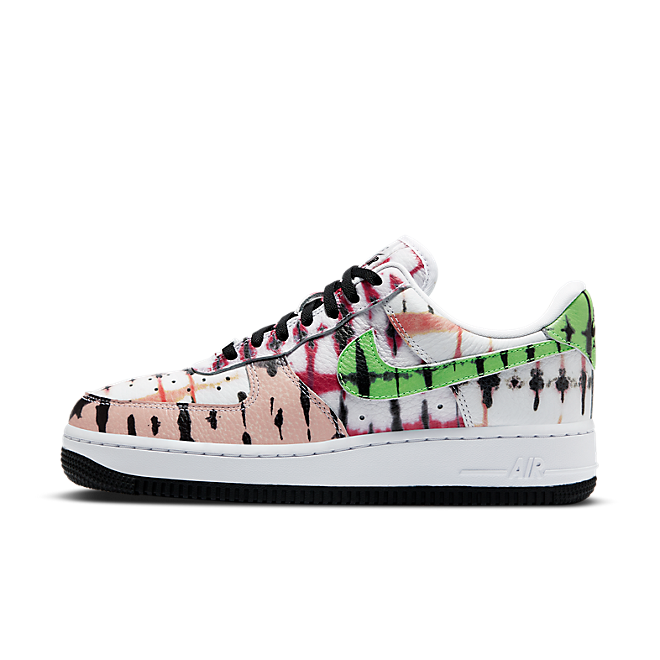 What is special? The colorway!

The Nike Air Force 1 'Black Tie-Dye' features many different colours and patterns. The upper is made of white leather, with many colourful elements. The shoe starts with a toe box in washed coral, which is decorated with black elements. In addition to that, the white leather upper, which forms the background of the design everywhere except the toe box, is always covered with tie-dye designs. Moreover these Tie-Dye designs are in light orange on the toe box, red on the middle part of the sneaker, black on the back and heel and light orange on the heel. Previously this orange was also on the toe box.

The swoosh, of the black Tie-Dye Air Force, is in strike green, with black dye-tie elements and white seams. Even the inner sole of the shoe is colourful, because the inner sole is, like the swoosh, green with black elements. All in all the only two non-coloured parts of the Tie-Dye Air Force are, the white midsole and the black rubber outsole. You can't imagine the shoe perfectly? Don't worry, here are some exact pictures of the shoe.
The Nike Air Force 1 'Black Tie-Dye', is not the only fire shoe that will be released in September. You can find all other sneaker releases in our release calendar. For everything else that is currently relevant in the sneaker scene, check out our blogpost's and updates.
Psst: Wanna check out the whole history of the legendary Air Force 1? Then have a look at this blogpost and enjoy some sneaker