What's good Community, once again we have a Jordan release, that is more for those of you, who have small feet. Because the new
Air Jordan 1 Mid SE 'Sisterhood' is a WMNS exclusive and therefore only comes in WMNS sizing. Before we get to the exact details of the Jordan 1, here are the release info.
Release Infos
The Jordan is due to release on Thursday 15 October 2020. The cost will be 120€. So far only Nike is known as the store, where the shoe will be released. There the shoe will be released directly on 15 October 2020 at 9:00 am. If there will be new retailers, you can find out by clicking the button. ⬇️⬇️⬇️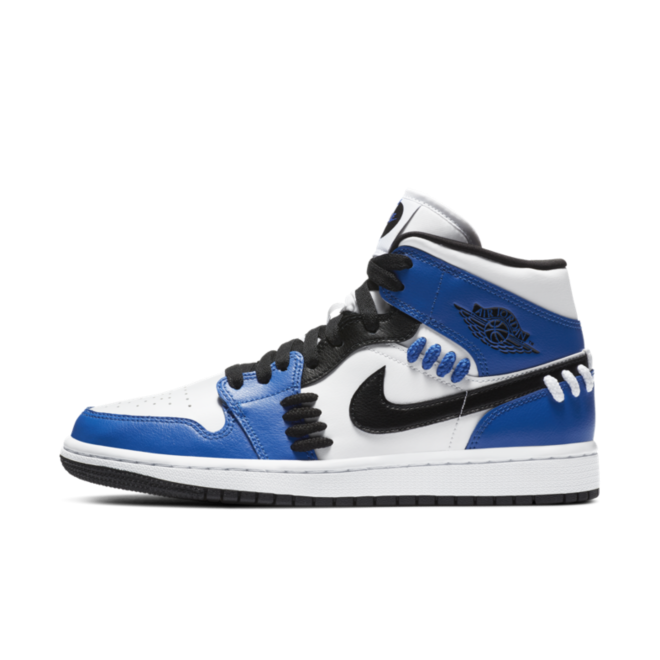 The details of the new Jordan 1 Mid Se
The most important thing about the shoe first. The Air Jordan 1 Mid SE 'Sisterhood' has the Colour Scheme Game Royal/Black/White, the same as the Jordan 1 'Fragment', one of the most hyped Jordan's ever. Just because of the colour scheme, it can be said, that it is a Top Jordan.
The special thing about this shoe is not the Colorway itself but the cord details. The different patterns on the upper are connected with thick cord seams. This gives the iconic Color Scheme new accents, that make the already good looking Colorway, look even better. Another exciting detail on the Jordan is the logo on the tongue, because the Color Scheme is also retained there. The Nike logo is made up of a circle that is half white and half black. The white half of the logo is still surrounded by a blue border, so that all three colours of the shoe appear in the logo.
That's it, with everything you need to know, about the Air Jordan 1 Mid SE 'Sisterhood'. If you want to know what other releases are coming up in the near future, take a look at our release calendar, there you will find an overview of all releases.
Finally we have some detailed pics of the sneaker for you, so have fun with them.