It will be a while before Halloween will be celebrated, but the first Nike sneaker has already had its makeover. We are talking about the Nike Dunk High Retro! The sneaker has quite some details that need to be discussed, so read on!
This is not the first time a Dunk silhouette has been given a Halloween makeover. In 2019, the Nike SB Dunk Low silhouette was transformed into the 'Night of Mischief Halloween' colorway. This was a huge success and nowadays you pay a few hundred euros resell for a pair via StockX.
Many of you will know by now, but originally the Nike Dunk High silhouette was designed for basketball players. It started in the 80s when the rivalry between different colleges was huge. Nike took advantage of this and designed twelve colorways inspired by different colleges. The silhouette was promoted with the slogan "Be True To Your School". Soon, the sneaker was not only worn on-court, but also in the streetwear world. Subsequently, the silhouette was also picked up in the music world and the film industry.
In 2002, Nike came up with the all changing line for the Dunk, namely Nike SB. A few colorways were released in the first year, as well as the Supreme collab. All in all, a dream start and over the years both the SB Dunk and the regular Dunk have become iconic sneakers.
Nike Dunk High Retro Re-Raw 'Halloween' | First Look
No official images have come out yet, but sneakerleaker @py_rates_ has already shared a mock up. It looks like the base is composed by leather in the colours white and red. Indeed, on the toebox and side panels, the colours can be found in a sort of mix of dots. It also seems to be possible to change the Swoosh through wear. The overlays found on the upper are rumoured to be made of furry suede. Other nice details are the two-coloured laces or the sockliner that features a beige pattern.
It's a shame we don't have any clear images of the sneaker yet, because we think there are many more details in there. Do you want to know when new images of this Nike Dunk High Retro Re-Raw 'Halloween' will surface? Download the Sneakerjagers App or keep an eye on our Instagram, because here we share the images first! Scroll down to see the mock-up.
---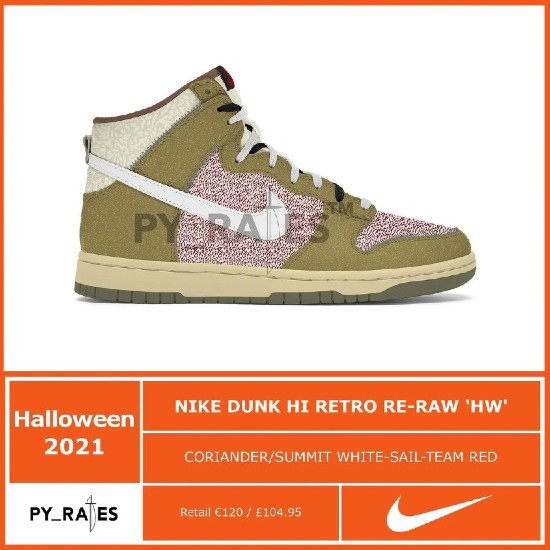 ---